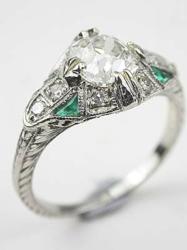 Topazery's June spotlight ring features emeralds scattered around the centerpiece diamond solitaire, just like Olivia Wilde's engagement ring.
Atlanta, GA (PRWEB) May 29, 2013
Earlier this year, when "Saturday Night Live" funnyman Jason Sudeikis proposed to his actress girlfriend Olivia Wilde, he did so with an engagement ring featuring an emerald halo. In honor of the celebrity couple's impending nuptials, antique jewelry boutique Topazery has chosen an emerald accent engagement ring as its June spotlight piece.
When "People" magazine broke the news of the engagement in mid January, there was "no word yet on a wedding date." Earlier this month, however, Sudeikis wrapped up his eighth and potentially last season of SNL. Perhaps that break from taping will free him up to set the big day in stone.
In the meantime, if "Glamour" magazine's reader reactions are any indication, Wilde's ring is exquisite. In an online feature titled "5 To-Die-For Vintage Engagement Rings Inspired by … Olivia Wilde's!" Glamour's wedding blogger pointed out, "Even those of you who feel so-so about engagement rings in halo settings were pretty nutso for Olivia Wilde's brand-new engagement bling from Jason Sudeikis which features an emerald halo."
The columnist then went on to speculate, "I'm guessing Olivia's ring is vintage, because I had a really hard time digging up look-alike rings, and ALL the rings I found with emerald halos are vintage."When Topazery learned of Glamour's difficulty in finding a similar engagement ring, the online boutique reviewed their online jewelry collection. And sure enough, one vintage engagement ring was a close match.
"Although our June spotlight piece is not an emerald halo ring per se, it does feature emeralds scattered around the centerpiece diamond solitaire, just like Olivia Wilde's does Topazery spokesperson Jan Walden explains. Indeed, the emerald accent engagement ring Walden selected is an Art Deco antique ring in platinum with four triangular step cut emeralds accenting an old mine cut diamond.
Two of the five rings "Glamour" singled in its blog feature out also happened to be Art Deco ones. "That doesn't surprise me," says Walden. "The Art Deco period produced dazzling jewelry that would naturally appeal to celebrity tastes . Also, emeralds, along with sapphires and rubies, became the gems of choice in Art Deco jewelry."
For more information on how to pull off an engagement with a celebrity-inspired engagement ring, contact Jan Walden at (678) 528-8901. To browse Topazery Jewelry's full collection of vintage, antique and antique style halo and emerald accent engagement rings, visit the company online at http://www.topazery.com/.