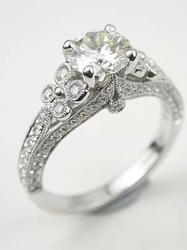 Pay attention to the type of engagement ring she prefers as this is a solid indicator of how she'd like to be proposed to – not all would-be brides want over-the-top proposals.
Atlanta, GA (PRWEB) May 30, 2012
Topazery Jewelry offers advice for romantic hopefuls who are planning a marriage proposal this summer. The antique jewelry boutique recommends they scrap their complicated, attention-grabbing proposal schemes and take their cue elsewhere. Paying attention to the type of engagement ring she favors is a solid indicator of how she'd like to be proposed to – and as it turns out, not all would-be brides want the flashbulb-worthy, star-studded treatment.
According to an ABC News report, the average cost of a wedding in 2011 was $26,501. That figure represented a 5.7 percent decline over 2009 numbers. Yet despite this cost-cutting mindset, hopeful grooms-to-be are not toning down their marriage proposals. Last year, the Minneapolis "Star Tribune" reported that the "New rules of engagement" involve "elaborate, risky proposals." The article went on to point out, "For many couples, the marriage proposal has become part of the wedding buildup, complete with paparazzi-style photography to capture the moment, and often, an audience."
Does this trend mean that all brides-to-be want to be asked for their hand in marriage with such grand gestures? Not according to a recent HuffPost Weddings commentary. In fact, the publication's proposal planner suggests that men steer clear of this trend and rely on something much simpler to guide them: their fiancée's engagement ring preference.
Having helped hopeful fiancés successfully pop the question for over a decade, Topazery Jewelry couldn't agree with that advice more. To that end, the antique jewelry boutique has come up with this list of marriage proposal suggestions based on her engagement ring preference.
1. Antique engagement rings – Women who flock to antique jewelry tend to harbor romantic notions about the good old days. "Pay particular attention to era from which her preferred engagement ring comes from," recommends Topazery Jewelry's Jan Walden. "Then use that timeframe as your inspiration." As examples, she suggests a "Pride and Prejudice" recreation for Victorian lovers or a Flapper-themed dinner party for 1920s fans.
2. Diamond solitaire engagement rings – Women who desire the classic solitaire aren't into fads, so their significant others shouldn't even think about a shocking or thrill-seeking proposal. "She wants something timelessly elegant that appeals to her unique side," stresses Walden. That might include popping the question in the middle of a wildflower field or at the top of a mountain. It might also involve friends and family members setting free a flurry of butterflies as he gets down on one knee. "Try to incorporate a theme she's loved all her life."
3. Colored gemstone engagement rings – Women who fancy colored gemstones want to stand above the usual crowd, so the proposal should be anything but ordinary as well. "Here's where you're allowed to go all out in the creativity department," Walden concedes. As an example, singer Seal proposed to supermodel Heidi Klum inside an igloo in the Canadian Rockies with a 10-carat canary diamond engagement ring.
For more information on how to match a marriage proposal to an engagement ring style, contact Jan Walden at (678) 528-8901. To see all the engagement ring options the jewelry boutique currently offers, visit Topazery Jewelry online at http://www.topazery.com