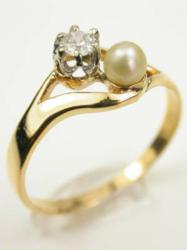 Topazery holds firm to the belief that every love story is one deserving of a spot in history.
Atlanta, GA (PRWEB) April 03, 2013
Topazery Jewelry has chosen its April spotlight piece. Inspired by the recent auctioning off of Napoleon Bonaparte's engagement ring to his first wife Josephine, the online jewelry boutique has selected an antique engagement ring that is befitting a marriage of historical significance. Topazery's antique pearl ring features a pair of stones just like the one with which Napoleon proposed to his beloved.
When the ring Napoleon Bonaparte presented to his would-be wife Josephine in 1796 recently went on the auction block in Fountainbleau, France, it was expected to sell for between $13,000 and $20,000. Instead, as the auction came to a close, the blue sapphire and diamond engagement ring raked in more than $948,000, Jewelry News Network reported. Nestled inside a gold band, the ring's two pear-shaped gemstones "rest side by side facing opposite directions."
In honor of that historical artifact fetching such a high price and garnering a new home, antique jewelry boutique Topazery has selected an engagement ring in a similar vein for its April spotlight piece. Visitors to the Topazery website will find an antique pearl ring being featured this month. Like the Napoleon love token, its two stones, a cultured natural pearl and an old style full cut diamond, romantically embrace each other in an 18k yellow gold band.
"Many people think of Napoleon as a ruthless French warrior but he actually had quite the romantic side when it came to his first wife, Josephine," explains Topazery's Jan Walden. "In fact, theirs is one of history's great love stories." In December 1795, just one month prior to presenting her with the double-stone engagement ring, Napoleon wrote to his soon-to-be wife, "Sweet, incomparable Josephine, what a strange effect you have on my heart."
Topazery holds firm to the belief that every love story is one deserving of a spot in history. To get that enduring tradition off on the right foot, the antique jewelry boutique offers a wide range of vintage and antique engagement rings bursting with historical provenance. The April spotlight antique pearl ring is just one such example, but at a price tag of less than $1,000, it illustrates how romantics can make a French emperor's grand gesture on an everyday person's budget.
For more information on how to pull off an aristocratic wedding proposal worthy of the history books, contact Jan Walden at (678) 528-8901. To browse Topazery Jewelry's full line of antique engagement rings, visit the company online at http://www.topazery.com/.