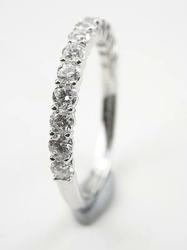 Women can also wear three, four or more of these stackable wedding bands, with or without an engagement ring.
Atlanta, GA (PRWEB) June 11, 2013
In celebration of the "Huffington Post" recently naming stackable wedding bands as one of its favorite jewelry trends, Topazery reviews its own top list of bridal rings that are perfect for stacked wearing. Style-conscious jewelry lovers who want to get in on this trend can browse the online jewelry boutique's in-stock inventory for one or more antique, vintage and antique style stackable wedding bands that match their personal style.
In selecting the stackable wedding ring as a trend with much to love about it, the "Huffington Post" highlighted the number of celebrities embracing it. Among these star stackers were Sarah Jessica Parker, Reese Witherspoon and LeAnn Rimes. As rationale for singling out the stackable trend, the news outlet also points to its "fresh take on the traditional single band or wedding band-engagement ring combo."
Topazery's Jan Walden has also seen a recent uptick in both brides-to-be and longtime brides buying more than one bridal ring so they can stack them either on their own or with their engagement ring. "What I most often see these days is women opting to buy two wedding bands so they can stack them in layers with their engagement ring nestled in the middle," she explains. "But women can also wear three, four or more of these wedding bands with or without an engagement ring. These rings are great because they allow the wearer to express her personal style. They also make great gifts to celebrate a special occasion like an anniversary, birth of a baby, birthday, etc."
To celebrate the HuffPo nod and to make the stacked bridal ring trend easier for on-trend jewelry lovers to adopt, Topazery has just reviewed its own list of Top Stackable Wedding Bands. Topping that list is an anniversary style stackable diamond wedding band featuring thirteen diamonds.
Other stackable bridal rings making the Topazery cut include two antique style wedding rings with geometrically pleasing round and teardrop diamonds. These slim bands are similar in style to the three LeAnn Rimes presently pairs with her five carat diamond engagement ring. For those who want to copy Rimes' style, the country music sweetheart prefers to wear her trio of wedding bands stacked above and below her engagement ring. A princess cut diamond eternity band with leaf motif rounds out Topazery's review of top stackable bridal rings.
For more information on how to select one or several wedding bands that will stack trendily with or without an engagement ring, contact Jan Walden at (678) 528-8901. To browse Topazery Jewelry's full collection of vintage, antique and antique style stackable wedding rings, visit the company online at http://www.topazery.com/.