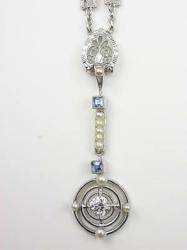 The overwhelming success of the Super Bowl commercials' inspirational approach has inspired Topazery to handpick and spotlight some of the most inspiring pieces from our antique jewelry collection.
Atlanta, GA (PRWEB) February 12, 2013
If the top television commercials from this year's Super Bowl are any indication, the American public holds a soft spot in its heart for the inspirational. Topazery honors that yen for inspiration by now showcasing some of its most inspirational jewelry pieces. Special motivation for the antique jewelry boutique's February spotlighting of a bangle bracelet and two necklaces was drawn from the unexpected popularity of first-time advertiser Alex and Ani.
Dodge's homage to the hardworking American farmer and Anheuser-Busch's tribute to the unbreakable bond between human and animal proved two of the most popular ad spots during this year's Super Bowl. But another, heretofore unknown, bit player managed to score a television commercial touchdown of its own during the football competition. Jewelry company Alex and Ani accomplished this feat by leveraging the same kind of spirited inspiration its mega-corporation competition infused into their advertisements.
Alex and Ani incorporates positive energy, mind enlightenment and spirit empowerment into its body adornments, and apparently that karma appeals to the American public. The company's 30-second Super Bowl commercial led to not only the Alex and Ani website being shut down from the massive amount of visitor traffic it received in response but also to a trending on Twitter.
"Alex and Ani creates the most beautiful bangle bracelets and breathtaking fluttery necklaces," explains Topazery spokesperson Jan Walden. "They enthralled the Super Bowl audience without any flashy gimmicks by simply showcasing their product. The overwhelming success of that approach has inspired me to handpick and spotlight some of the most inspiring pieces from my own antique jewelry collection."
Tipping her hat to Alex and Ani's positive energy, Walden has chosen an Orange Blossom Bangle Bracelet, an Edwardian Antique Necklace and a Victorian Filigree Necklace as Topazery's spotlight pieces for February. All three pieces evoke the spirited inspiration American consumers just can't seem to get enough of.
For more information on how to infuse inspiration into life with the right jewelry touch, contact Jan Walden at (678) 528-8901. To browse Topazery Jewelry's full collection of inspirational antique, vintage and antique style bangles, bracelets, necklaces and rings, visit the company online at http://www.topazery.com.