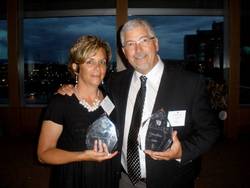 2009 Enterprising Women of the Year
Trinidad, CO (Vocus) February 9, 2010
What do custom home décor accessories and protective cases for smartphones have in common? The answer is nothing, except that the two hottest companies in these two industries both happen to be in the same state – and in the same family. Danielson Designs and OtterBox are at the top of their games as demonstrated by recent awards won by both, and it's the entrepreneurial heritage siblings Annie Danielson and Curt Richardson share that has helped drive the success of their respective companies.
That success has translated into awards and industry recognition for both Danielson Designs and OtterBox. The two businesses were first recognized in Inc. Magazine's Inc. 5000 as two of the fastest growing companies in the country. In March of 2009, Enterprising Women Magazine honored Annie as one of its "2009 Enterprising Women of the Year".
Most recently, at a January 19th reception, the Colorado Office of Economic Development and International Trade honored both Danielson Designs and OtterBox as only two of 50 "Colorado Companies to Watch". The awards program highlights companies that are "developing valuable products and services, creating quality jobs, enriching communities, and creating new industries throughout the state."
To add an exclamation point, Annie and her husband, Mark Danielson, were named the "2009 CEOs of the Year" this past December by ColoradoBiz Magazine.
When asked about his sister's recent accolades, Annie's brother Curt, the founder and CEO of OtterBox, had nothing but words of praise and encouragement. "I've been telling Annie that there's a lot of blue ocean out there. I think you have to create it, and she has." While Richardson shrugged off any suggestion of competition between the siblings and their respective businesses, Danielson had a different perspective on the relationship with her brother. "As the older brother, I don't think he ever felt competitive with me and (youngest sibling) Pete. But we were always trying to compete with him."
Being in business for themselves has been a way of life for generations in the Richardson family. "Entrepreneurship is in our DNA. Our grandfather owned his own business, and our father had several side businesses as he preached the gospel," said Richardson. "Our father didn't really share his thoughts on being an entrepreneur – he just did it, and we learned by example."
Richardson's and Danielson's entrepreneurial DNA expressed itself early and often. Always looking for a business opportunity, Curt created a snow shoveling enterprise every winter and hired neighborhood kids to grow his business. Annie, who was eager to share in her brother's success and profits, readily agreed to shovel a neighbor's sidewalk when the neighbor mistook her for Curt. "Curt quickly discovered my transgression; I never heard the end of it."
During the early '90's, Richardson was still on the hunt for great business opportunities at the same time Annie and husband Mark launched Danielson Designs. By 1996 when OtterBox was born, Danielson Designs was a thriving business that was quickly becoming one of the largest private employers in its hometown of Trinidad. As OtterBox experienced its own growing pains, Richardson looked to his sister and brother-in-law for both inspiration and instruction. "Mark and Annie encouraged me because they were implementing systems to run their business." As Richardson described it, "In my business, I was a great firefighter, but I was an even better arsonist."
Since the 1990's both companies have had their share of ups and downs, but both Danielson and Richardson have relied on the lessons they learned early in life. "What we learned from our father was that there are very few risks in life from which you can't recover, and if you don't take some risks, you will miss out on some of life's greatest rewards," said Danielson. Richardson has lived his father's lessons as well: "Back in 2000, we pretty much had to start over with the dot com bust. That's when I realized that we had to do something different and control our own destiny." OtterBox has flourished under Richardson's direction and is in the process of moving into larger facilities in its hometown of Ft. Collins, Colorado.
Indeed, both Danielson Designs and OtterBox are bullish about the coming year. Danielson Designs is looking to its new website, The Studio, to lead the way in the custom gift and home décor market. The Studio was officially launched to independent retailers nationwide at the nation's largest gift and home décor show, The Atlanta International Gift & Home Furnishings Market, earlier this month. For OtterBox it has been all about reaping the rewards after years of hard work establishing relationships with the top smartphone manufacturers and national distribution channels. It's plausible that the leading manufacturer of protective cases for PDA devices will garner national recognition in a big way this year.
As both of their companies grow and find their respective spotlights on the national stage, Annie Danielson and Curt Richardson continue to live their entrepreneurial legacy. The seeds of success for both Danielson Designs and OtterBox were planted long before Richardson and Danielson reaped the rewards of their respective business endeavors.
For more information on Danielson Designs, please visit its online media room at http://newsrooms.prweb.com/DanielsonDesigns/ or visit http://www.TheStudio.DanielsonDesigns.com. To learn more about OtterBox, visit http://www.otterbox.com/.
###