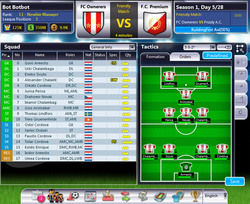 Belgrade, Serbia (PRWEB) October 9, 2010
Nordeus has released Top Eleven Football Manager game for Facebook.
Summer 2010 changed everything for soccer fans on Facebook. Millions of people enjoying management of a virtual football club got a game that fulfills their needs online. And it's on Facebook. As most of the first user reviews said: "Finally!"
Top Eleven Football Manager, developed by a European company Nordeus, follows the concepts and gameplay found in the international bestsellers like Eidos' Championship Manager and Sports Interactive Football Manager series. But - it's online, anytime, anyplace with all the benefits of multiplayer gaming, allowing players to interactively communicate and play against virtually millions of sports and football fans. Seems like that's the right cocktail for a really addictive game.
Once you click the 'Go To Application' Facebook button a pleasant club setup screen awaits you to create the identity of your new virtual champion of the world: name, emblem, jerseys, etc. After that the glory is yours - you compete in Leagues against your Facebook friends and other users or play friendly games, the best teams qualify for Champions League…
The real attractiveness of Top Eleven is in the features of the game. Every manager has complete control over his club by training, selling or buying players, complex tactics settings, watching games live and adjusting formation and orders to the current situation, building stadium and infrastructure, dealing with the finances and sponsorships. And all of these have direct influence during the game.
For example, bigger stadium can take more soccer fans, which means bigger moral for players and more money from selling match tickets.
"The entire development team has strong passion for football management and sports in general and it was great fun developing a product you actually love to play yourself. I think we have something to be very proud of as Top Eleven is a pioneer in many fields and user feedback and the energy users' community invests in helping us becoming even better every single day is just astonishing." said Branko Milutinovic, Nordeus CEO.
About Top Eleven Football Manager:
Top Eleven Football Manager is a multiplayer game developed for Facebook and other social networking sites. The game was conceived in order to address the lack of social football-management games that follow the concepts and gameplay found in international bestsellers like Eidos' Football Manger and Electronic Arts' Premier Manager that have engaged millions of passionate football fans. Eidos' Football Manager, for example, is one of the Europe's best-selling titles every year (2009, 2010).
Top Eleven Football Manager delivers compelling gameplay and visual richness to a whole new level, Through its quality of gameplay, revolutionary look and feel and rich user-researched features, the goal for the immediate future is to make Top Eleven Football Manager synonymous with online football management games.
About Nordeus:
Top Eleven Football manager was developed by Nordeus, an expanding venture-startup company.
Nordeus Interactive was founded in April 2009 by a group of former Microsoft engineers striving to leverage the desktop gaming experience to the web.
http://www.facebook.com/topelevengame - Top Eleven Football Manager Game
http://www.topelevengame.com/ - Top Eleven Football Manager Official website
http://twitter.com/TopElevenFM - Top Eleven Football Manager Twitter
http://www.youtube.com/user/topelevenfm - Top Eleven Football Manager Youtube Channel
###