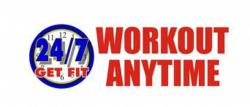 "The hands on support, training and business plan that we have developed for our franchisees covers everything they need to know before going in to business," said Quattrocchi.
Atlanta, GA (PRWEB) September 07, 2012
As more military veterans return home from active duty, the need for jobs continues to grow for these service men and women who are out actively looking for work. To help combat this growing demand, Workout Anytime, an affordable, 24-hour, seven-day-a-week gym concept has decided to reduce its franchise fee by 50 percent for honorably discharged military members to help get them in to business.
Looking to find more ways to actively help get more service men and women into the system, Workout Anytime is finding creative ways to connect with and hear the stories of military veterans who are interested in business ownership. To launch this initiative, Workout Anytime is waiving the franchise fee for one lucky nominated veteran through their Facebook Application titled "We Want You" at (http://bit.ly/WorkoutVets). The nominations will be narrowed down to three finalists and the winner of the contest will be chosen by Workout Anytime's Facebook fans.
Co-founder, John Quattrocchi, holds this mission near to heart as a former Air Force veteran who worked in avionics and missile guiding systems (1966-1970). When John returned from his military service, he wanted to work for Delta airlines, but the opportunity never panned out. He opted to instead work for European Health Spa at the time and never ended up leaving the fitness industry.
"One thing I learned after serving in the Air Force is many veterans return home expecting to find work, but can find that a challenge as many military members have had prolonged absences from the workforce," shared Quattrocchi. "Workout Anytime provides veterans with an opportunity to open their own business with a relatively low initial investment that can be opened quickly and efficiently."
Ingrained with a strong sense of discipline, determination and motivation, the men and women who make up the U.S. Armed Forces have all the skills required to successfully operate a Workout Anytime franchise and have a proven track record to follow a set business system. After more than 60-years combined experience between Co-Founders John Quattrocchi and Steve Strickland, Workout Anytime business model is not only well-proven, but quite profitable for its franchisees.
The most successful operators in the system are hands-on businesspeople connected with their community and other local businesses, and who can be found in their facilities interacting with members, meeting their needs and up selling member benefits such as tanning, personal training and Hydromassage privileges.
"The hands on support, training and business plan that we have developed for our franchisees covers everything they need to know before going in to business," said Quattrocchi. "It doesn't take a rocket scientist to operate our model and we find we have passionate entrepreneurs who are looking to help customers and promote a healthy lifestyle, anytime."
With an initial investment level between $200,000 and $380,000 and area developer options as well, depending on population and availability, the Workout Anytime model provides options for all entrepreneurs looking for a new business. Company executives expect significant expansion and new deals signed in 2012, and plan to expand into markets across the southeast such as Alabama, South Carolina, and Florida.
ABOUT WORKOUT ANYTIME
Atlanta-based Workout Anytime is a 24-hour, seven-day-a-week fitness concept with 36 units in the Southeastern U.S. Founded by fitness veterans John Quattrocchi and Steve Strickland, the company was formed to provide members with first-class fitness facilities at the lowest cost possible, while delivering a profitable and affordable business model to franchisees. Built on the founders' motto of, "think big, keep it simple and do it with integrity," Workout Anytime is preparing for significant expansion into new territories by providing opportunities to business-minded entrepreneurs. For further information about franchise opportunities, visit http://www.workoutanytime.com.