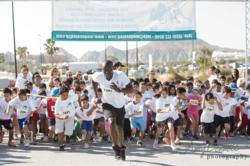 Cabo San Lucas, Mexico (PRWEB) May 10, 2013
With the child obesity rate in his community at 78% top fitness trainer Modu Seye has set out with the goal of improving the health of the youth in his area, along with his ModuVated team of industry professionals and help from the local community. The ModuVated team has already seen large success, thanks in part by the donations from community events.
As an example, in March, over five hundred individuals, including volunteers, sponsors, and kids, came out to Plaza San Lucas to take part in the 3rd Annual 5K Walk/Run hosted by top fitness trainer Modu Seye. The event included 200m, 500m, 1K, and 5K races. The event also encouraged youth participation of all ages. Throughout the event, children from many schools, both private and public, competed side-by-side in a dramatic display of excitement and energy. A
Apart from the race, other activities such as Zumba for kids hosted by Maggie Ossorio, boxing demo's compliments of X-Gym, a softball clinic provided by Softball Baja Sur, live music played by the Erick and Lizanka Duet and MC's Gerzon and RobbyZ, kept the crowd happy throughout the day.
As a dedicated top fitness trainer, Modu Seye is thrilled that ModuVated's event has become an annual gathering to encourage and inspire the local community to adopt healthier lifestyle choices while raising funding for local organizations. While the event is just one single day, the team's mission to raise awareness among the children in their community continues throughout the year. Knowing that is motivation to make each year's race even bigger and better than the previous year's.
Top fitness trainer Modu Seye and team are very happy to reveal that the total amount raised throughout the event was around $24,000. The earnings will be divided between four community organizations: Casa Hogar, Los Cabos Children's Foundation, The Ray Thomas Foundation, and ModuVated's latest project: Niños en Acción, an organization whose mission is to provide Los Cabos' youth the opportunity to be leaders while building a self-sustainable playground.
"As a group we have a lot of projects to come and if anyone wants to help us they are very welcome," says top fitness trainer Modu Seye. "The problem of obesity and lack of health affects everyone in this community but those same people can be the ones that help. It is not about where you came from but who you choose to become. When it comes to the ModuVated team we are not only looking trying to look good physically but also be healthy and happy on the inside."
Modu Seye and the ModuVated team would like to thank all those who helped to make the 2013 race a success and look forward to doing it all again next year.
To see race results and photos visit the ModuVated webpage at http://www.moduvated5k.com.
ModuVated Contact Information:
ModuVated
Email: info(at)moduVated(dot)com
Website: http://www.moduvated5k.com/