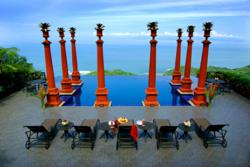 Zephyr Palace is part of Villa Caletas, one of the first boutique hotels in Costa Rica. It not only boasts top services and facilities but a unique way to see Costa Rica
Puntarenas, Costa Rica (PRWEB) October 02, 2012
This top award was given by the travel savvy voters of the World Travel Awards website and travel advisors. The awards were handed out to leading travel brands from across the Caribbean and Americas at the World Travel Awards Ceremony hosted at Beaches Turks & Caicos Resort Villages & Spa on September 14, 2012. A packed delegation of VIPs, senior tourism figures and international media travelled from more than 30 nations to attend WTA's Caribbean & The Americas Ceremony 2012.
Zephyr Palace is part of the Villa Caletas complex hotel in Costa Rica. This luxury mansion shines like a jewel in Costa Rica's Central Pacific coast and has seven thematic luxury suites that have been carefully decorated. Each suite's detail and décor will transport guests to a different time and style according to the room's theme. The name and design of this Palace was inspired by the mythological Greek God of the west wind. Zephyros, considered the gentlest wind. Even today Zephyr means a warm and light breeze. It's over the top design and architecture makes guests feel a world away. Feel the enchantment of the mansion sunbathing in a private pool or relaxing in an African inspired suite.
Zephyr Palace is part of Villa Caletas, one of the first boutique hotels in Costa Rica. It not only boasts top services and facilities but a unique way to see Costa Rica. Located 1000 feet over the Pacific Ocean and surrounded by the rain forest, experience the best of Costa Rica. Zephyr Palace has access to a private beach where guests can relax in the year round pleasant weather as well as horizon pools where the views are endless. To explore Costa Rica, there are many attractions nearby such as beaches, National Parks, zip lining, sport fishing etc.
The World Travel Awards serves to acknowledge, reward and celebrate excellence across all sectors of the global travel and tourism industry. Winning a Word Travel Award is the highest commendation in the travel and tourism industry and this triumph serves as a testament of Zephyr Palace's excellence over the last 12 months.
To Celebrate this great award Villa Caletas's Zephyr Palace is offering this great package: Stay 3 nights, pay for 2! Total for three nights: $746 in Egyptian, 20 Years or New World Suite
*Taxes included. Valid until December 15, 2012. Offer valid for two people per suite.
For reservations please contact: reservations(at)villacaletas(dot)com +(506) 2630-3000
For more information and reservations for the hotel, visit:http://www.zephyrpalace.com& http://www.villacaletas.com or join the Facebook to keep up with the latest news and promotions
http://www.facebook.com/villacaletascr
For more information on the World Travel Awards: http://www.worldtravelawards.com