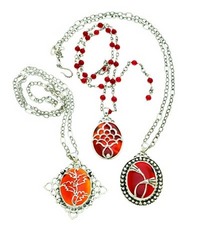 Silver mixed with colorful stones is a big trend for this season. Topkapi Tile offers a unique on-trend aesthetic that will have people asking, 'Where did you get that?'
New York, NY (PRWEB) June 15, 2010
A vibrant burst of color and style abounds in Cynthia Gale's latest collection, 'Topkapi Tile,' featuring colorful, exquisite sterling silver jewelry. Evoking the stunning stylized tulips of Topkapi Palace, the renowned New York designer adds a creative twist with sterling silver, iolite and carnelian jewelry.
A recent visit to the magical city of Istanbul left designer Cynthia Gale with a sense of the unique artwork of the Turkish people. Says Cynthia of her inspiration, "Topkapi Palace, the primary residence of the Ottoman sultans for 400 years, took my breath away. Amidst the endless treasures housed in this magnificent museum, the Hall of the Ablution Fountain with its colorful array of traditional hand painted tiles captured my attention and inspired the Topkapi Tile collection."
Richly decorated tile work is translated into softly sculpted, sterling silver florals that gently curve over rich carnelian cabochons to create a collection of modern elegance. Open work sterling silver pendants and earrings alongside statement pieces with carnelian and iolite bring the orange and blue from the tiles and transform them into stylishly wearable accessories.
"Silver mixed with colorful stones is a big trend for this season. Topkapi Tile offers a unique on-trend aesthetic that will have people asking, 'Where did you get that?'" says Olga Gonzalez, Sales and Marketing Manager for GeoArt.
With more than thirty styles of sterling silver, iolite and carnelian jewelry pieces in the collection to choose from, there is a price point and a look for everyone. Topkapi Tile is for the woman who wants to make a statement in color and has an appreciation for art and culture. To purchase items from this collection, contact your local GeoArt retailer or to purchase select pieces visit geoartnyc.com.
About GeoArt by Cynthia Gale:
Specializing in artisan-crafted sterling silver jewelry, Cynthia Gale's signature collections are licensing partnerships with over fifteen of the nation's top museums and cultural institutions. The GeoArt by Cynthia Gale line has evolved from ideas reflecting the rich cultural diversity of New York City and Cynthia's passion for it. Our philosophy is simple: to create exquisite, quality sterling silver jewelry designs inspired by art and the world around us.
Contact:
Olga Gonzalez, Sales and Marketing Manager
olga(at)geoartnyc(dot)com or 212.481.1845 ext 301.
GeoArt by Cynthia Gale
8 East 36th Street, 3rd Floor, New York, NY 10016
Phone: 212.481.1845
Fax: 212.481.5296
Toll Free: 888.436.2781
###