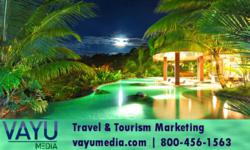 The Springs Resort & Spa Voted Top 10 Luxury Hotel in Central and South America
Los Angeles, CA (PRWEB) November 23, 2012
The Springs Resort and Spa is a 165 acre luxury boutique five star hotel in La Fortuna, Arenal, Costa Rica with the best view of the Arenal Volcano and the most onsite guest amenities including a 14,000 square foot full service Spa, hot springs, a kilometer of frontage on the Arenal River and a wildlife rescue preserve with 25 rescued jungle cats and monkeys. are the best hotel for bird watching in Arenal along with hiking, river fishing, kayaking and wildlife tours. The luxury resort has been rated one of the best five star Costa Rica resorts and now can boas a top 10 ranking in Central and South America.
Most know The Springs Resort & Spa in Arenal Costa Rica from television when it played host to an episode on ABC's The Bachelor. But those of who have actually stayed there have given this Costa Rica resort a big thumbs up and voted it in the Top 10 luxury hotels in Central and South America on TripAdvisor.
The luxury resort is best described as a romantic boutique hotel that is a perfect honeymoon destination, but The Springs is also a great family resort with many children's activities. The resort is 20 minutes drive from the main town of La Fortuna in a secure, self contained and family-friendly resort atmosphere. With 18 hot springs pools spanning over 4 acres of landscaped recreational area there is plenty of room to spread out and relax. This is one major reason this Costa Rica resort has received a big vote of confidence from TripAdvisor reviewers making it one of Latin America's top luxury hotel destinations.
Hotel Internet Marketing Services provided by Vayu Media. Please contact the Vayu Media PR department for more information on The Springs Resort & Spa.