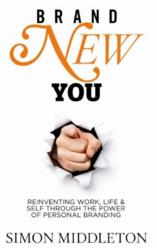 My message is that you can escape the rut if you adopt the right strategies.
(PRWEB UK) 25 May 2012
Middleton, whose previous books include the small-business guide 'Build A Brand In 30 Days', is a popular motivational speaker at business conferences and other events but had taken a year long break from speaking in order to write 'Brand New You' and to develop his latest venture, the specialist online retail business Banjos Direct.
"Now I'm keen to start telling the story of how I reinvented my own life and work with the creation of Banjos Direct, and to explain the principles of personal branding from my new book Brand New You," said Middleton.
"As I show in the book, the vital thing is to operate strategically, which means thinking clearly about where you want to be in the future, whether yourself or your business. From that clear vision you can then develop a compelling, authentic and distinctive narrative which you can bring to life."
In October last year Middleton, who is also a performing musician with the band The Proposition, launched Banjos Direct with the intention of giving a contemporary brand boost to the world of specialist musical instrument retail. Less than 9 months from launch the business has become a leader in its sector, is tracking 300% growth and is currently seeking further equity funding to aid expansion.
The author and entrepreneur was previously well known as a strategic brand consultant, working for corporates, public organisations and charities on brand and reputation issues.
"All of these developments, personal, professional and entrepreneurial, are linked by the common thread of wanting to create a life journey which felt to me to be inspiring and authentic, and that's what I will be telling audiences about," said Middleton.
"Far too many people get stuck in a rut from which they think that cannot escape, and that is especially true in tough economic times. My message is that you can escape the rut if you adopt the right strategies."
FURTHER INFORMATION
Banjos Direct is the UK's fastest-growing specialist banjo retailer and manufacturer, leading the renaissance of interest in the banjo amongst players of every age and background. The Norwich-based company is the UK's leading stockist of USA banjo brands GoldTone and Nechville. Banjos Direct has recently announced its move into banjo manufacturing with the launch of the all-British made Islander OB-01.
Founder and CEO of Banjos Direct, Simon Middleton, is also frontman of English-Americana band The Proposition, whose debut album King Snake, Devil Shake was released in March this year. Middleton is the author of several books on branding and marketing, including 'Build A Brand In 30 Days' and the new guide to personal branding 'Brand New You'.
Find Banjos Direct at http://www.banjosdirect.co.uk.
Find Simon Middleton at http://www.simonmiddleton.com
Email: info(at)banjosdirect(dot)co(dot)uk
Phone: +44 (0) 1603 305800