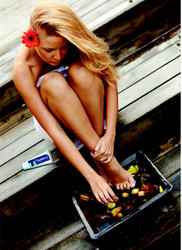 More than 75% of Americans will experience foot pain at some point in their lives, which is one of the most common causes of the many chronic pain issues people suffer from.
Rhinebeck, NY (Vocus) July 23, 2010 —
A year after its successful launch by Topical BioMedics, Inc., Rhinebeck, NY, all natural Topricin® Foot Therapy Cream now comes in two new sizes. Originally offered in an 8oz bottle, the pain relief healing cream that's specially formulated to target foot and ankle pain is also available in a convenient 4oz jar as well as a 2oz tube that's perfect for travel.
Topricin Foot Therapy was voted one of the best new innovation products by retailers for 2009.
A safe, combination homeopathic formula, Topricin Foot therapy cream provides healing relief for a myriad of common foot problems. Doctor recommended and a favorite among sports enthusiasts, it's especially effective for injuries such as plantar fasciitis, shin splints, Achilles tendonitis, strains, sprains, leg cramps, and impact injuries and bruising. Topricin Foot Therapy Cream incorporates a proprietary delivery system for rapid relief, effectively treating the discomfort associated with such painful conditions as heel spurs, gouty arthritis, burning nerve pain, and painful neuromas in between the toes. Additionally, it offers soothing treatment for swelling and soreness, and relieves kin conditions of the feet, including dry, cracked skin.
Topricin Foot Therapy Cream is safe for diabetics, and is very effective for burning nerve pain in the feet and many of the skin problems that affect the feet and ankles. (While Topricin Foot Therapy Cream offers welcome relief, diabetics should always maintain regular visits with their doctor, and keep their blood sugar levels under control.)
Topricin Foot Therapy Cream is fast absorbing, paraben and petroleum free, non greasy, non-irritating, and odorless. Unlike strong-smelling, burning, greasy analgesics that contain harmful chemicals that simply numb the nerves, Topricin Foot Therapy stimulates the body's natural desire to heal the damage that's causing the pain. It works by stimulating the draining of toxins and fluids that build up in an injured area, relaxing micro-capillary blood flow, allowing oxygen-rich blood to flow back to the injured tissues.
"More than 75% of Americans will experience foot pain at some point in their lives, which is one of the most common causes of the many chronic pain issues people suffer from," says Lou Paradise, CEO of Topical BioMedics and inventor of the product. "This isn't surprising, given the fact that the human foot supports the entire body and contains many complex bones, muscles, nerves, and ligaments—all of which are vulnerable to injury. Women are more likely to be the ones who suffer from foot problems and that's why we worked to formulate a healing pain relief cream that would specifically address a safe, effective, and intelligent means of treating the pain associated with foot and ankle issues, whether they are caused by sports injuries, overuse, or underlying medical conditions."
Founded in 1994 and headquartered in Rhinebeck, NY, Topical BioMedics, Inc., is the research and development leader in topical regulated natural medicines for pain relief. The company's flagship product, Topricin® Pain Relief and Healing Cream, was introduced in 1994 and is now a leading natural therapeutic brand. All Topricin products are FDA-regulated over-the-counter medicines. Doctors and pharmacists can find more information about Topricin in the 2010 edition of the Physicians' Desk Reference (PDR). The product brings together eleven homeopathic medicines that work synergistically to relieve pain associated with a wide range of painful ailments. The Topical BioMedics' family of products includes classic Topricin® Pain Relief and Healing Cream, Topricin® Foot Therapy, and Topricin® Junior for children, introduced in May 2009 to address the safety issues and concerns of parents and doctors in the pediatric pain relief category.
Topricin is available in pharmacies, natural food stores, and other retailers nationwide, including Vitamin World, Whole Foods, Wegmans, Fred Meyer, and Pharmaca, as well as direct from Topical BioMedics. For additional information, visit http://www.topricin.com.
###