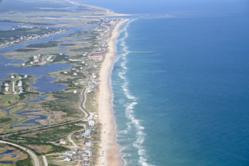 The Internet has made it easier than ever before to find new vacationers and more-and-more people are discovering our hidden treasure which translates into very good news for property owners who are enjoying more and more rental income."
Topsail Island, NC (PRWEB) July 24, 2012
Topsail Island, July 16th, 2012: The dream of owning a home on Topsail Island, a place where you can spend lazy days on sandy white beaches, fishing, swimming, boating, playing golf, enjoying quiet time taking in the scenery or any other number of delightful activities, is indeed a dream shared by nearly all the thousands of tourists who visit the area year after year and so many more. Ask anyone who has spent time on Topsail Island or in Sneads Ferry and a multitude of stories will flow about why each of these people love the area and and exactly why each would like to live on Topsail Island full time or at the very least own a second home that can be enjoyed by their families and at the same time generate rental income. Richard Baker, the founder and owner of Treasure Realty, describes the buisness in this manner... "Treasure Realty is in the business of helping make dreams come true. We help to find properties that fit our clients dreams, needs and budget in wonderful locations like North Topsail Beach, Surf City, NC, Topsail Beach, and also in nearby mainland communities like Sneads Ferry, Holly Ridge, Hampstead, and Jacksonville."
Within the Topsail Island and surrounding coastal communities during the second quarter of 2012, there was an overall 104% increase in home sales compared to the same time in 2011. According to the National Association of Realtors®, "The Pending Home Sales Index, a forward-looking indicator based on contract signings, rose 5.9 percent to 101.1 in May from 95.5 in April and is 13.3 percent above May 2011 when it was 89.2." Locally, Treasure Realty®, has enjoyed an increase in sales of 161% in 2012 compared to last January through July 6th 2011.
As the housing market continues to track upward, Isaac Baker who heads the rentals division of Treasure Realty, was quoted as saying... "There has never been a better time to own a vacation rental property on Topsail Island. The Internet has made it easier than ever before to find new vacationers and more-and-more people are discovering our hidden treasure which translates into very good news for property owners who are enjoying more and more rental income." Josh Menken who leads the marketing team for the sales side of the business at Treasure Realty hopes to emulate the success of the rentals website by making the new web presence, http://www.treasurerealtors.com, easier to find, easier to use and far more informative and useful for potential buyers.
Within the new IDX enabled site, potential buyers or sellers can easily search for homes by town, zip code, sub-division or even by price point or number of bedrooms and the possibilities go on and on. And once a potential client finds a home or property of interest, it is a simple task to view professional photos of the property, virtual tours and all the relevant MLS information.
"It's quick, it's easy and it's informative", Menken stated in a recent telephone interview. Menken also added "We want the user experience to be as easy and useful as possible and we feel that our new IDX design does just that." "All indicators point to the fact that now is a great time to buy and Topsail Island is a great place to buy so we hope you'll visit our newly launched website and discover our hidden Treasure."
Treasure Realty is a full service Topsail Island Real Estate Company offering 400+ vacation rentals and also providing sales services to buyers and sellers in Topsail Island, Sneads Ferry and Jacksonville, NC. Treasure Realty has been serving the NC Coast since 1989 and is #1 in Sales and Rentals on Topsail Island. For more information please contact (888) 724-3814 or visit http://www.treasurerealtors.com