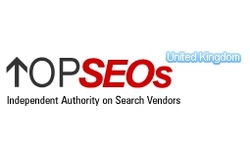 Plymouth, IN (PRWeb UK) August 4, 2009
The independent authority in search, uk.topseos.com has completed the list of the top UK SEO firms. In order to qualify for this list, topseos.com had to put each of the SEO companies into a strict evaluation process to properly gauge each of their optimization abilities.
Search Engine Optimisation (SEO) is the process of improving the rankings of a web page through natural means. Topseos has made it their mission to promote the best SEO firms in UK to match them with clients that are in search of quality services.
The 30 best SEO companies in the UK are:
1. SEO Consult
2. Weblinx Limited
3. Just Search
4. High Position Limited
5. Smart Traffic Ltd
6. Bullseye Media
7. Greenlight
8. Bigmouthmedia
9. NetSecrets Ltd
10. Bluechilli Ltd.
11. SEO: Begin
12. Advansys Limited
13. GSINC Ltd
14. Ikroh
15. Electworld
16. Distilled
17. Zyas
18. Micrositez LTD
19. Lake Star Media
20. Rapid Blue
21. White Hat Media
22. Search Logic plc
23. Silverbean
24. Unite Search Marketing
25. SEO Company UK
26. Backbone IT Group
27. Vertical Leap Ltd
28. I-COM
29. 1st Page Prophets
30. Web Predators
To be included in this list, the companies had to go through an extensive assessment to measure their capabilities in search engine optimization. The factors that topseos.com looks at is the depth of knowledge in SEO, the return on investment that they provide and lastly, the drive for customer satisfaction. To accurately look at this uk.topseos.com interviewed at least three customers from each applicant and asked important questions such as, "What would be 3 things you would change about your experience?" and "How many of your top industry keywords rank in the top 10?"
If you are a SEO Company that would like to be considered for the uk.topseos.com rankings, apply at:
http://uk.topseos.com/rankings/search-engine-marketing-agencies/apply-for-ranking
To learn more about the top UK Search Engine Optimization Firms, visit:
http://uk.topseos.com/rankings
###