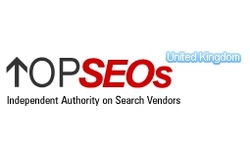 This is why we are constantly looking at refining our methods and strategies to keep in step with the ever evolving industry of internet marketing
Plymouth IN (PRWeb UK) August 20, 2009
This August, the independent authority on search, uk.topseos.com, has completed their list of the Best Search Engine Optimisation Companies in the United Kingdom. At the top of the list is the web SEO firm from Cheshire UK, SEO Consult. The people from topseos.com recognized SEO Consult for their drive to move search engine optimisation forward as an industry. SEO Consult aims to provide search engine optimisation that can be considered comprehensive and holistic.
Another reason uk.topseos.com considers SEO Consult as a premier company is their drive to actively research and test new SEO techniques and theories. All of the effort they have placed into SEO technologies was done in order to give their clients the best possible results. One of these newly developed technologies includes click intelligence. Susie Hood of SEO Consult explains, Clicktelligence v2.0 was developed in-house and gives our clients regular reports on all aspects of their SEO campaign so that they can see our services in action."
uk.topseos.com understands that technology is only one of the things that set them apart from their competition. Thinking creatively and enacting solutions is one of their most recognizable competitive advantages with SEO companies. SEO Consult enjoys creative thinking. "This is why we are constantly looking at refining our methods and strategies to keep in step with the ever evolving industry of internet marketing", explains Hood.
This was just the beginning for SEO Consult. Even with the economic crisis in full swing, SEO Consult still showed great promise by continually expanding over the last 12 months. They have plans for opening a new consulting office in Australia. They were also actively growing their staff to expand their client base even further.
SEO Consult is dedicated to their quest and anchor themselves as the number one SEO company in the United Kingdom. There are well on their way as they have continually ranked first in uk.topseos.com's list of the Best UK SEO Companies. Hood explains that SEO consult wants "to continue to provide exceptional services and countless first page results to our clients and to remain at the cutting edge of the search marketing industry."
The uk.topseos.com team understands the desire to satisfy their client's needs and has recognized the efforts of SEO Consult by naming them to the top of the list. SEO Consult now has a growing number of clients which include JJB Sports, EUKHOST, MF Global, and UKSoccerShop.
To view the complete list of the Best UK SEO Companies please visit: http://uk.topseos.com/rankings
To learn more about the services of SEO Consult visit http://uk.topseos.com/seo-consult
###