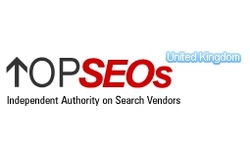 Plymouth, IN (PRWeb UK) July 3, 2009
topseos has ranked the top search engine optimization companies for July 2009. In recent years, companies are increasing their budgets for search engine optimization because it offers the best return for their advertising dollars. With organic optimization, companies can increase their rankings in search engines and in the process increase their presence in the web. By theory, the higher the ranking of a site, the higher chance it will have of gaining traffic. Studies have shown that the top ranked sites are the most visited while sites ranked on the second page rarely get traffic from search engines.
The companies that were included in this list have shown excellent performance when it comes to organic optimization. The firms included this month have proven to their customers that they did not make a mistake choosing them for their SEO partner. The top 30 UK firms on this list are:
1. SEO Consult
2. Weblinx Limited
3. Just Search
4. High Position Limited
5. Smart Traffic Ltd.
6. Bullseye Media
7. Greenlight
8. Bigmouthmedia
9. NetSecrets Ltd
10. Bluechilli Ltd.
11. SEO: Begin
12. Advansys Limited
13. GSINC Ltd.
14. Ikroh
15. Electworld
16. Distilled
17. Zyas
18. Micrositez LTD
19. Lake Star Media
20. Rapid Blue
21. White Hat Media
22. Search Logic plc
23. Silverbean
24. Unite Search Marketing
25. I-COM
26. SEO Company UK
27. Backbone IT Group
28. Vertical Leap Ltd.
29. 1st Page Prophets
30. Web Predators
Before the best UK firms could be recognized, uk.topseos.com had to get a good gauge of the firm's capability when it comes to organic optimization. This gauge includes the firm's depth of knowledge, return on investment and overall customer satisfaction. To be able to properly look into these factors, uk.topseos.com asked tough question to clients of each firm which include, "What are the most competitive keywords you have been able to rank on the major search engines and how long did it take you to achieve those rankings?", and "How many of your top industry keywords rank in the top 10?"
UK Organic Optimization Companies that would like to be considered for the uk.topseos.com rankings can apply at:
http://uk.topseos.com/rankings/search-engine-marketing-agencies/apply-for-ranking
To learn more about the top UK Organic Optimization Firms, visit them at: http://uk.topseos.com/rankings
###