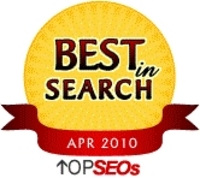 Numerous vendors contact us each month seeking to be ranked
Plymouth, IN (PRWEB) April 14, 2010
The independent authority on search vendors, topseos, announced the launch of topseosapplication.com. The site provides visitors with quick-access to the application for consideration for rankings. Each vendor provides basic contact information, an overview of the company, three client contacts, and the categories they want to be considered for.
An experienced research team then reviews the applications that are received. They put each firm through a stringent evaluation process that tests the knowledge of each firm. They then contact at least the three clients provided by the vendor in order to obtain their perspective of working with the firm. At the end of the process a rankings score is applied and the best firms are ranked.
"Numerous vendors contact us each month seeking to be ranked," said Jeev Trika, managing partner of topseos.com. He continued, "Having the application form on a site that can be quickly accessed by vendors will allow us to obtain more applications in order to ensure that the best firms are being ranked."
Over 50,000 visitors go to topseos.com in order to connect with the best in the internet marketing industry. Launched in 2002, topseos.com, the independent authority on search vendors, set out to help businesses find the best internet marketing services. Thousands of applicants have been reviewed by an experienced research team equipped with a specialized set of evaluation criteria. topseos released a new set of rankings each month updated with the information obtained throughout the prior month.
Firms interested in applying for the consideration to be ranked, visit:
http://www.topseosapplication.com
To view the latest rankings of the best internet marketing services, visit:
http://www.topseos.com/rankings
# # #