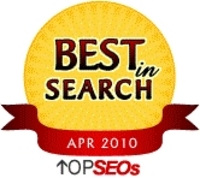 Plymouth, IN (PRWEB) April 14, 2010
topseosevaluationcriteria.com is a brand new site from topseos, the independent authority on search vendors. The site was developed in order to provide visitors with a clear understanding of the evaluation processes set in place by topseos.com. The processes are independent and authoritative in the industry.
topseos.com assigns a specified research team to use the evaluation criteria developed internally in order review the numerous applications received monthly from those seeking to be ranked. Each vendor is scrutinized. Then the team contacts at least three clients of each vendor in order to gain their perspective. At the end of the process, a rankings score is applied to each firm and a list of the best is released.
Jeev Trika, managing partner of topseos, said, "Our evaluation team does a great job of filtering the best companies from the rest. They have poured hours into finding the companies that belong on our lists. topseosevaluationcriteria.com provides an easy way for visitors and vendors alike to find out more about our evaluation processes."
The independent authority on search vendors, topseos.com, launched in 2002 seeking to recognize the best SEO company and other internet marketing services. Their goal is to help businesses connect with the best internet marketing services in the industry based upon their research. Today, over 50,000 monthly visitors connect with topseos.com to find out who is at the top of the industry. In addition to the independent rankings, you can find the knowledgebase with new and other information regarding the internet marketing industry.
To learn more about the evaluation processes of topseos.com visit:
http://www.topseosevaluationcriteria.com
To view the latest rankings of the best internet marketing services, visit:
http://www.topseos.com/rankings
# # #