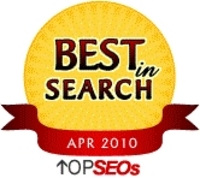 Plymouth, IN (PRWEB) April 14, 2010
topseos, the independent authority on search vendors, has launched a brand new site in order to provide ranked vendors with a quick-access site to download the latest winner seals. topseosseals.com provides the monthly rankings seals, membership seals, and the SEO and PPC competition seals. The provide visitors with a single location to get there promotional seals.
topseos.com encourages the promotion of a vendor's achievement to their clients, their competition, and to anyone interested in the internet marketing industry. With eight years of experience the independent authority on search vendors is respected in the industry. To be highlighted by the research firm is an achievement worth sharing with the world.
Jeev Trika, managing partner of topseos, noted, "We, at topseos, want to make it as easy as possible for vendors to highlight their achievement. Being recognized by our research team and surviving the stringent research processes we have in place is no easy feat. Vendors that have been recognized by us should be proud to put that seal on their website, proposals, and email signatures."
The independent authority on search vendors, topseos.com, recognized a need within the internet marketing industry to separate the best vendors from the rest. As such, in 2002 the site was launched with the first rankings including the best SEO company. Since then, over 50,000 monthly visitors connect with topseos.com in search of the best internet marketing services and products. In addition to the independent rankings, you can find the knowledgebase with new and other information regarding the internet marketing industry.
To download the latest internet marketing winner seals, visit:
To view the latest rankings of the best internet marketing services, visit:
http://www.topseos.com/rankings
# # #