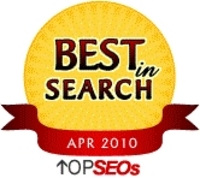 Plymouth, IN (PRWEB) April 14, 2010
topseos, the independent authority on search vendors, has launched a brand new site devoted to the videos that have been produced by topseos.com. The site, topseosvideos.com, contains videos that explain the topseos service, benefits to buyers and providers, and various services offered by the site. The site was launched in order to provide quick access to the information provided in the videos without having to search the site.
The overview video, the first video on the site, helps viewers get to know topseos and their history. In the benefit to buyers video, topseos reveals how they can be a benefit those that are in search of internet marketing services. Other services that are explained in the videos include: SEO and PPC competition, consideration for rankings, and the leads program.
Jeev Trika, managing partner of topseos, explains the launch stating, "We are excited to be able to provide our visit with a single location in order to find videos that we have produced. The videos have provided a personal touch to our website. It only makes sense that visitors could find out about all the services offered in a single location."
topseos.com, the independent authority on search vendors, began ranking the top SEO company and other internet marketing services in 2002. A research team was developed to identify and rank the best companies based upon an internally created set of criteria. Soon after, topseos.com expanded to four regions throughout the world including the United Kingdom, Australia, India, and Canada. Over 50,000 visitors come to find the best internet marketing services, new, and other information every month.
To view the latest videos available from topseos.com visit:
To view the latest rankings of the best internet marketing services, visit:
http://www.topseos.com/rankings
###