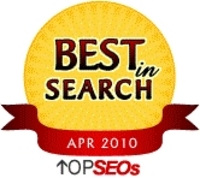 Plymouth, IN (PRWEB) April 7, 2010
The independent authority in search, topseos.com, has ranked the best local SEO service for April 2010. Thousands of vendors have applied seeking to be ranked by the independent authority. After an extensive evaluation process performed by an experienced research team only the best local search SEO firms were recognized.
An experienced team of analysts with topseos reviews thousands of applicants and put them through a rigorous evaluation process in order to find the best. To go one step farther topseos.com then contacts three clients of each firm to ask questions such as, "How many visitors do you attract daily from your "local" area?", "What techniques were implemented by the agency to get you maximum coverage for your regional target market?", and "How do you measure the success of your local search campaign?"
The best local search firms for April 2010 are:
1. Increase Local Visibility
2. Nifty Marketing
3. 15miles
4. Localize It
5. Customer Magnetism
6. Lead To Conversion LLC
7. GeoLocalSEO
8. eLocal Listing
9. Expose Local
10. Search Influence
topseos.com, the independent authority on search vendors, began ranking the top SEO company and other internet marketing services in 2002. A research team was developed to identify and rank the best companies based upon an internally created set of criteria. Soon after, topseos.com expanded to four regions throughout the world including the United Kingdom, Australia, India, and Canada. Over 50,000 visitors come to find the best internet marketing services, new, and other information every month.
Local search vendors that would like to be considered for the topseos.com rankings can apply at:
http://www.topseos.com/rankings/search-engine-marketing-agencies/apply-for-ranking
To view the latest rankings of the best local search firms visit:
http://www.topseos.com/rankings-of-best-local-search-companies
###