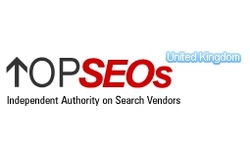 What type of a ROI were you anticipating, what was achieved and in what time frame?
Plymouth, IN (PRWEB) October 6, 2009
The independent authority in search, topseos.com has completed its list of the Best UK Pay Per Click Experts for this month. The rankings consist of only the best that the pay per click marketing industry has to offer. uk.topseos.com hopes that this list will put the focus on pay per click marketing companies that deliver results and steer away would-be customers from shady firms that practice click fraud to only pad their pockets.
Pay per click marketing is a campaign that uses search engine technology to drive traffic focused from a certain demographic into a webpage. This campaign uses sponsored links locked on to specific keywords and these links are then displayed prominently in website content that includes blogs, search results and other content driven websites. Furthermore, pay per click marketing is a cost efficient alternative to gain additional web presence because a client only pays for actual links that brings a potential customer to the website.
The Best Pay Per Click Service and others, in the United Kingdom include:
1. Clicks2Customers
2. Just Search
3. Click Consult
4. Smart Traffic Ltd
5. 1UK.Com Ltd
6. MediaCo
7. 1st Page Prophets
8. Distilled
9. Jump Higher
10. Red Evolution
11. SEO Positive
12. Rupiz Media
13. Red Ant
14. Direct Submit
15. ePurple Media
16. AccuraCast Limited
17. Enclick Ltd
18. Flip SEO
19. Status Media Ltd
20. Hit Search
21. Optimal internet Limited
22. Maximum Hit
23. JellyFish
24. Bigmouthmedia
25. Guava
26. Open Eye Marketing
27. White Hat Media
28. Intergage Ltd.
29. Top Click Media
30. Cornish WebServices
Pay per click firms that were included in these ranking had to go through an extensive evaluation process that measured their knowledge of pay per click marketing, the rate of return they provide and their commitment to customer satisfaction. To achieve this, uk.topseos.com interviewed at least three of their clients to ask tough questions like "What type of a ROI were you anticipating, what was achieved and in what time frame?" and "By what percentage have you increased your PPC budget and over what time?"
Pay per Click Companies in UK that would like to be considered for the topseos.com rankings can apply at: http://uk.topseos.com/rankings/search-engine-marketing-agencies/apply-for-ranking
To learn more about the Top UK Pay Per Click Services
Follow Us on Twitter: http://www.twitter.com/_topseos_
# # #