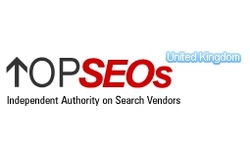 What would be 3 things you would change about your experience?
Plymouth, IN (PRWEB) October 5, 2009
uk.topseos.com has completed rankings for the Top Search Engine Optimisation Firm, and its followers, serving the United Kingdom. To complete this ranking, uk.topseos.com placed hundreds of UK SEO firms through a rigorous evaluation process and the result is a collection of only the best SEO firms to represent UK.
Search Engine Optimisation, or SEO, is the process of improving rankings of search engine results using specific keywords. SEO is an important marketing campaign, because companies can increase their profitability with better rankings. The higher the ranking, the greater web traffic a search result produces. The top companies are listed for the benefit of clients and companies alike.
The top 30 Search Engine Optimisation Companies in the United Kingdom include:
1. SEO Consult
2. Weblinx Limited
3. Just Search
4. High Position Limited
5. Smart Traffic Ltd
6. Bullseye Media
7. Greenlight
8. Bigmouthmedia
9. theEword
10. SEO Company UK
11. NetSecrets Ltd
12. Bluechilli Ltd.
13. SEO: Begin
14. Advansys Limited
15. GSINC Ltd
16. Ikroh
17. Electworld
18. Distilled
19. Zyas
20. Micrositez LTD
21. Lake Star Media
22. Rapid Blue
23. White Hat Media
24. Silverbean
25. Unite Search Marketing
26. Backbone IT Group
27. Vertical Leap Ltd
28. I-COM
29. 1st Page Prophets
30. Adwords Media
To be considered for this ranking, uk.topseos.com had to interview at least three of the firms' clients to ask questions that will gauge their knowledge of search engine optimisation, how much their customers are satisfied and the rate of return they provide. Some of the few tough questions they asked include "What would be 3 things you would change about your experience?", "What type of a ROI were you anticipating, what was achieved and in what time frame?", and "How many of your top industry keywords rank in the top 10?"
UK Search Engine Optimisation Companies that would like to be considered should apply for ranking at: http://uk.topseos.com/rankings/search-engine-marketing-agencies/apply-for-ranking
Learn more about the Best Search Engine Optimisation Company and other great firms.
Follow Us on Twitter: http://www.twitter.com/_topseos_
# # #