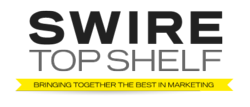 Glendora, CA (PRWEB) February 11, 2013
SWIRE announces a new service designed to help the cable industry combat competitive advertising more effectively. The agency, whose work for the cable industry has received numerous awards, has now added aggregated direct mail campaigns to its complete lineup of marketing services. These campaigns enable cable companies to purchase a higher level of marketing services at a deeply discounted price.
The program, called Top Shelf, invites cable multi-system operators to opt in together and purchase direct mail campaigns. Once enough quantities are jointly purchased, the aggregate pricing model provides huge cost savings.
As anti-cable advertising continues to grow, it's important that cable companies get the ammunition they need to compete effectively in order to retain and grow market share. SWIRE has a history of creating campaigns tailored for this industry that achieve strong results.
The agency offers proven experience in the cable industry, having worked with Cox, Time Warner, Charter, Bright House, CTAM, the NCTC, and more. Zack Swire, founder and president of SWIRE, said, "With the aggregate campaign model, everybody wins when everybody buys in. This represents one of the smartest opportunities today for national and regional cable MSOs to regain market share that's being hit by anti-cable advertising, much of which relies on hype and humor rather than substantiated facts."
SWIRE is a full-service marketing agency that blends strategic insight with creative thinking to offer a complete range of expertise, including direct, digital, social, and broadcast services. It was created in 2005 and is based in Glendora, CA. For more information, please visit http://www.goswire.com.