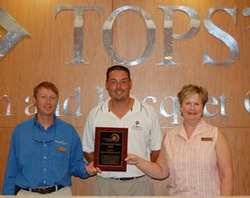 The cost of replacing current non-green lighting with green lighting was minimal compared to the overall savings in the life of each bulb
Fort Walton Beach, FL (PRWEB) July 9, 2008
ResortQuest's Northwest Florida Vacation Rental division began planning its green initiative at TOPS'L Beach & Racquet Resort in February 2008. After assessing different ways to help the environment and save money in the process, the first logical step was replacing regular lighting with environmentally friendly light bulbs and fixtures. To accomplish this goal, ResortQuest & TOPS'L committed to the EcoGreen Award™ Certification program, pioneered by Tropical Lights, Inc., in Fort Lauderdale, Florida.
TOPS'L Beach & Racquet Resort, located in Destin, Florida, is a full-service resort situated on 52 incredible acres bordering a state natural preserve and surrounded by the beautiful emerald green water and sugar white sand of the Gulf of Mexico. TOPS'L offers a myriad of vacation rental options including beachfront condos, tennis villas, a hill top high rise as well as a vast array of wonderful on-site amenities, such as on site restaurants, tropical pools, a state-of-the-art fitness center, putting green and much more. TOPS'L is also recognized as a world-class tennis facility with 12 newly renovated Rubico courts and offers 14 tennis packages to fit every skill level.
As TOPS'L is comprised of many different condos, homes, buildings and facilities, the cost to transition to environmentally friendly lighting was several thousand dollars. However, the lights are actually more cost effective over the long term. "The cost of replacing current non-green lighting with green lighting was minimal compared to the overall savings in the life of each bulb", stated Phil Tumminia, General Manager of TOPS'L. "We didn't throw away the replaced lights. In fact, we donated the functioning incandescent bulbs to Habitat for Humanity to help with their building needs."
"We are excited that TOPS'L has received the EcoGreen Award™ and completed the first step towards our goal in achieving certification through the Florida Department of Environmental Protection's Green Lodging Program", continued Tumminia. "Although we recognize that getting our Green Lodging designation is a very involved process with stringent requirements, the staff at TOPS'L is ready and up to the challenge."
"ResortQuest is committed to helping the environment and we are encouraging all of our properties to rethink, recycle and reuse", explained Lino Maldonado, Vice President of ResortQuest. "Although TOPS'L led ResortQuest's green initiative in Northwest Florida, the ResortQuest Home Office is also taking steps to become an eco-friendly business." ResortQuest has teamed up with Hurlburt Field Air Force Special Operations, 16th Services Division in Fort Walton Beach, Florida, to collect all recyclable paper, plastic bottles, aluminum cans, toner cartridges, cardboard, wood pallets, and out of date marketing materials on a weekly basis. Other materials such as used cell phones, rechargeable batteries, ink stamps, plastic bags and fluorescent lights are being recycled by various sources.
In addition to offering the largest selection of Destin Condo rentals, ResortQuest also manages hundreds of vacation condo rentals on Okaloosa Island in Fort Walton Beach, Beaches of South Walton, Panama City Beach, Navarre Beach and Perdido Key, as well as many luxurious private homes in Destin and Beaches of South Walton. ResortQuest also manages quality vacation rentals in neighboring Orange Beach and Gulf Shores along Alabama's beautiful Gulf Coast.
All ResortQuest Northwest Florida and Alabama Gulf Coast guests also receive the complimentary "Passport To Fun" program which provides seasonal admission/fares to some of the areas most popular attractions including Deep-Sea Fishing Excursions, Dolphin Cruises, Water Park adventures and much more.
About ResortQuest
ResortQuest is one of the nation's leading vacation rentals and resort real estate companies. Featuring great destinations, such as Destin condos, ResortQuest.com provides a one-stop resource in North America's premier resort destinations. ResortQuest is the largest marketer and management company of vacation condominiums and home rentals in the North America, based on a portfolio of nearly 16,000 vacation rental properties, comprised of 50,000 rooms, producing 400 million dollars in annual revenue. ResortQuest Real Estate is a leading real estate company focusing exclusively on resort properties, offering superior brokerage services in the country's premier beach, ski and golf destinations with annual sales revenues in excess of one billion dollars.
###