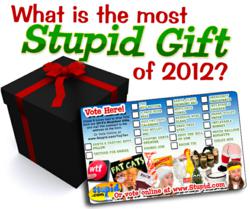 There's only one vote that really matters this election season: What will win the race for the Most Stupid Gift of 2012.
Los Angeles, CA (PRWEB) November 05, 2012
There is only one vote that really matters this election season: What will win the race for the Most Stupid Gift of 2012 by Stupid.com.
For the 6th year in a row, Stupid.com - known for finding the most weird and bizarre gifts on the planet - will be announcing its annual list of the Most Stupid Gifts of the Year.
This year, however, the website will be doing things differently, by allowing the public to choose which crazy gifts will make their final list of hilarious gags, pranks, and stocking stuffers. Ultimately, only one will be crowned the Most Stupid Gift of the Year.
Starting on November 2nd, Stupid.com will open the voting up to the public with a poll on their website, in order to determine which gifts and gags from all over the nation will be deemed "Most Stupid".
Voting will remain open through the entire month of November. Once all votes have been tallied, Stupid.com will release their list of the Top 10 Most Stupid Gifts of the year, as determined by the popular vote, along with the runners up.
Past years winners have included silly gag gifts such as the Screaming Chicken, the Giant Christmas Tree Hat, and Golf Ball Life Vests.
Here are few of the finalists that will be up for nomination for this year's Most Stupid Gift of the Year:
2013 Fat Cats Calendar - This calendar is huge, literally! These chubby kitties are sure to bring a warm smile and lots of belly laughs, as each month features a different full-figured feline ready to delight with its fat fatty fatness.
The Bacon Tie - It's dress-up for bacon lovers! Who can't appreciate the class and elegance of a necktie that looks like a delicious slab of sizzling hot bacon. The workplace will be a lot less dull - and a lot more mouth-watering when you're wearing this savory accessory.
The Toilet Mug - Drinking out of toilets is no longer just for dogs! Whether it's a warm cup of coffee, or a hearty mug full of chili, heads will turn to see this porcelain delight. This mug brings a whole new meaning to 'Bottoms Up'!
The Redneck Wine Glass - Bring out your inner hillbilly with this tasteless item. Be ready to dine in style anywhere from trailer parks, to parking lots as you sip from this mason jar inspired chalice!
About Stupid.com:
Stupid.com has been spreading laughs – one gift at a time – since it's burst onto the online retail scene in 1998. From great gag gifts, to silly stocking stuffers, the company offers a huge selection of over 2,000 products and 100 gift categories of crazy and insane gifts.