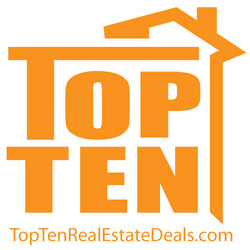 Compiling this list has been both fun and illuminating... Searching out these 'deals' requires many hours of web surfing but I must say, it's been a labor of love. I hope you enjoy my monthly Top Ten Real Estate Deals for Denver, Colorado as much as I did doing it
South Bend, IN (Vocus) July 20, 2009
TopTenRealEstateDeals.com is a new independent website offering exciting and unique Top 10 lists of today's best deals on real estate for sale. Their current featured new market addition is Denver, Colorado.
The Denver list features the 10 best deals on a mix of Denver homes for sale.
"Compiling this list has been both fun and illuminating... Searching out these 'deals' requires many hours of web surfing but I must say, it's been a labor of love. I hope you enjoy my monthly Top Ten Real Estate Deals for Denver, Colorado as much as I did doing it," says Denver Top Ten Concierge Agent, Kristal Kraft.
Kristal's local knowledge translates well for clients looking for a deal. The listings are from a variety of brokerages in the metro Denver area.
To view the Denver Top Ten Real Estate List visit:
http://www.toptenrealestatedeals.com/luxury_real_estate/condos/regional/denver/.
This list is a welcome addition to TopTenRealEstateDeals.com's already extensive list of regional markets. To view a full list of their regional real estate markets visit http://www.toptenrealestatedeals.com
The site also offers a weekly Real Estate Top 10 list of national deals in the United States.
In addition to the best home and condo bargains, the Top Ten research team looks for fun, eye catching deals. Recent Top Ten listings have included a spaceship house in Chattanooga, a cave home in Missouri, and a haunted house in Massachusetts.
Their independent Top Ten team focuses on uncovering the best luxury real estate deals from the web, newspapers, auction lists, and pre-construction ads while including only those deals that they feel are the very best bargains! The deals are not their listings, they do not broker sales, and they are not an agency. TopTenRealEstateDeals.com is a general media showcase of great deals on real estate for sale.
For further information, or to request an interview with a company representative, please contact their Internet Marketing Director, Jason Wakefield.
Contact:
Jason Wakefield
Internet Marketing Director
TopTenRealEstateDeals.com
574-204-2295
# # #