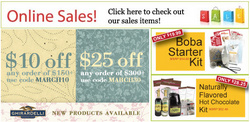 City of Industry, CA (Vocus) March 8, 2010 –
Lollicupstore.com, a leading online supplier of Torani syrups, is making March memorable by offering discounts on orders of beverage powders, spices, coffee beans, and of course, Torani syrups, among many other items. Beginning immediately, and extending until March 31, customers can receive $10 off any purchase of $150 or more by using promotional code MARCH10 at checkout, or $25 off purchases of $300 or more by using promotional code MARCH30 at checkout.
As one of the foremost suppliers of restaurant food and drink supplies, Lollicupstore.com carries a vast array of products from a number of renowned brands, including BlendTec blenders, Ghirardelli chocolate sauces and powders, and of course, their signature Torani syrups, sauces, and purees for mixed and blended beverages.
In addition to the discounts being offered through the month, Lollicupstore.com is also providing unbeatable deals on some of its core products. These deals include buy five get one free promotions on MochaBLAST latte powders, complimentary measuring spoons and posters with orders of 15 or more Big Train Blended Ice or Blended Crème Powders, and receive a free syrup pump when ordering 12 or more bottles of Da Vinci or Torani Syrups.
Furthermore, Lollicupstore.com's Boba Starter Kits are being made available for the special price of $19.99, heavily marked down from the suggested retail price of $54.89, allowing you to make boba milk tea from the comfort of your own home kitchen. Similarly, Naturally Flavored Hot Chocolate kits are being priced at $28.25, almost half off the suggested retail price of $52.49.
Sign up with the company's newsletter to receive exclusive promotional coupons on Torani syrup and other beverage needs. Also be sure to visit Lollicupstore.com for other great deals on other coffee, restaurant, and beverage supplies, as well as the Lollicupstore.com blog for information on other sweet deals and product updates.
About Lollicup® USA Inc.
Lollicup® USA Inc is the largest distributor in United States of Torani syrup, sauces, frusia, and caffioco. Headquartered in the City of Industry, Lollicup® is also known for its retail bubble tea drink stores under the Lollicup® Coffee and Tea and Lollicup® Tea Zone brands. Press release produced by Cybertegic.com- an Internet marketing services agency that specializes in search engine optimized press release marketing (SEO marketing).
# # #