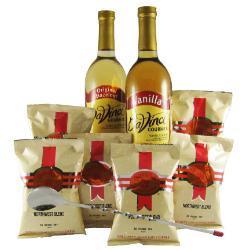 City of Industry, CA (PRWEB) September 19, 2009
This season, Lollicupstore.com, a retailer of Torani syrup, unveils its newest additions to their line of well-loved culinary and kitchen offerings. The new line of Caffe D'Vita's blended iced coffee are available in seven flavors: double mocha latte, mocha latte, coffee latte, caramel latte, java chip latte, toffee coffee latte and vanilla latte. Enjoy a refreshing coffee break with Caffe D' Vita Blended Iced Coffee, starting at only $15.50. Get $0.50 off per bag when purchasing more than five bags of this new product and enjoy a bigger discount when purchasing a minimum of ten Caffe D' Vita's iced coffee bags. Lollicupstore.com is also opening its online doors for the new Karat Large Straws. Each pack contains 45 large straws measuring 7.5 in long and 10 mm wide - perfect for any bubble tea beverage. Karat® large straws are available at Lollicupstore.com for only $3.00 per bag.
LollicupStore.com is also offering irresistible deals on black "red" tea leaves, golden tea leaves, and green tea leaves. Purchase the black "red" tea leaves for as low as $64.00 per case on orders of six cases or more. Golden tea leaves start at $55.00 per case, with a $5.00 off for orders of six cases or more. Meanwhile, green tea leaves retail for $72.50 per case and can go as low as $67.50 for bulk purchases. Great discounts also await online buyers of Lollicup® Powder and Lollicup® Syrup. Take $1.00 off every bag of Lollicup® Powder when purchasing a minimum of three bags, and additional $0.50 off when purchasing six bags or more. The well-loved Lollicup® Syrup retails for less than $0.75 of its original price per bottle for purchases of at least three units. For purchases of six or more bottles, online customers get an additional $1.00 off for every Lollicup® Syrup bottle.
More pocket-friendly deals are in store for loyal customers of LollicupStore.com. The Boba Starter Kit, which can yield up to 80 boba beverages, is now available online for only $19.99 from its original selling price of $54.89. The deliciously delightful Monin syrup can now be enjoyed for $0.74 less - with each bottle now available for only $5.25 each. The Ice Coffee Kit, which can make up to 60 beverages, is only $54.95 discounted from its original price of $65.74.
LollicupStore.com makes sure every dollar counts that is why more purchases equals bigger savings. Bulk orders, excluding sugar, oil and equipment, worth at least $2,000.00 come with a free shipping guarantee. To enjoy more discounts on LollicupStore.com's array of new and existing products, including Torani syrup, visit the website and join the mailing to avail of exclusive coupons.
About Lollicup® USA Inc.
Lollicup® USA Inc is the largest distributor in United States of Torani syrup, sauces, frusia, and caffioco. Headquartered in the City of Industry, Lollicup® is also known for its retailing bubble tea drink stores under the Lollicup® Coffee and Tea and Lollicup® Tea Zone brands. Press release produced by Cybertegic.com - an Internet marketing services agency that specializes in search engine optimized press release marketing (SEO marketing).
###