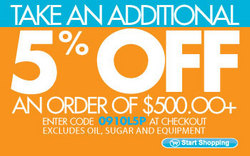 City of Industry, CA (PRWEB) October 22, 2009
This fall season, online Torani syrup supplier, LollicupStore.com, is making coffee-drinking extra sweet with great deals on featured products. For every purchase worth at least $500.00, LollicupStore.com will slash an additional 5% off the original amount. Simply use the special code, 0910L5P, upon check-out to take advantage of this great bargain.
Until October 31, 2009, Organic Torani syrup is on sale for $6.25 each for purchases of at least two bottles. Get an additional $0.25 off for purchases of at least four bottles and get even bigger discounts for five or more bottles of Torani syrup. Enjoy the organic goodness of this Italian flavor master for only $5.85 each when buying in bulk. Stock up on favorite organic Torani syrup flavors - Ginger Spice, Gingerbread, Italian Eggnog, Pumpkin Pie and Pumpkin Spice - at pocket-friendly deals only at LollicupStore.com.
Lollicup Store is not just sweetening the deal on Torani syrup products. Coffee lovers will also enjoy great bargains on Oregon Chai with the powder variant on sale for only $6.00 per bag and the concentrate for only $3.50 per bottle. Big Train Sereno Chai concentrate now retails for only $3.75 per bottle while Ghirardelli is taking off $2.50 for every case purchase of its sauce and powder. Natural Da Vinci Syrup products are also joining the fall sale bandwagon, starting with $5.99 per bottle on single purchases going as low as $4.59 per bottle for a minimum acquisition of five bottles. Promotional prices are only good until supplies last so make sure to check out LollicupStore.com for this great fall season deals.
LollicupStore.com is the best online go-to for irresistible bargains on Torani syrup favorites. To receive promotional coupons and stay up to date on the latest deals on Torani syrup and other products, sign up and subscribe to the e-mail list.
About Lollicup® USA Inc.
Lollicup® USA Inc is the largest distributor in United States of Torani syrup, sauces, frusia, and caffioco. Headquartered in the City of Industry, Lollicup® is also known for its retailing bubble tea drink stores under the Lollicup® Coffee and Tea and Lollicup® Tea Zone brands. Press release produced by Cybertegic.com - an Internet marketing services agency that specializes in search engine optimized press release marketing (SEO marketing).
###