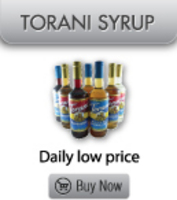 City of Industry, CA (Vocus) May 28, 2010
Lollicupstore.com, an online supplier of Torani syrup and other specialty beverage items, is giving customers more reasons to shop online. For starters, all purchases of $300 and up are automatically being discounted $50 when using promo code Summer50. While this promotion includes all Torani syrup products, it excludes purchases of oil, sugar, and other equipment. The Boba Starter Kit, which normally retails for $54.89, is now being offered for only $19.99. The popular Ice Coffee Kit is being put on sale for $54.95, down from its original price of $65.74. The price of MochaBLAST flavoring has also been marked down to only $7.75, reduced from its original selling price of $8.25.
This June, LollicupStore.com is adding Mango Infused Black Tea Kit, Yogurt Infused Green Tea Kit, and Torani Real Fruit Smoothies to its already extensive inventory of beverage products. Available for a special introductory price of $17.99, the Mango Infused Black Tea Kit includes mango syrup, black tea leaves, and a cocktail shaker. For the perfect combination of tea and tart yogurt, try the Yogurt Infused Green Tea Kit for only $18.25. The kit includes yogurt syrup, green tea leaves, and a cocktail shaker.
Torani fans will also be delighted to know that new Torani Real Fruit Smoothies will be joining the family of classic Torani syrup flavors. This is your chance to offer your customers the real flavor of fresh fruits with Torani's latest addition to its product line-up. Easily whip up great-tasting smoothies this summer with Torani Real Fruit Smoothies' pour-and-blend packaging. At only $8.95 per bottle, Torani Real Fruit Smoothies will be available in mango, strawberry, and super fruit.
Select flavors of Da Vinci syrups are also having their prices slashed. Da Vinci syrups are perfect for espresso drinks, brewed coffee and tea, smoothies, and more. Regular and sugar-free caramel, vanilla, french vanilla and hazelnut varieties are now only $3.99 per bottle. Big Train Blended Ice Powder and Blended Creme Powder are both on sale for $17.99. Select flavors of Lollicupstore.com's very own Lollicup® Syrup are only $6.00 per bottle, and select flavors of Monin syrups can now purchased for only $4.99.
Lollicupstore.com offers a wide variety of specialty beverage products at discounted prices from suppliers such as Italian flavor master Torani syrup. For exclusive deals on Torani syrup and other products, be sure to sign up online for our coupon mailing list.
About Lollicup® USA Inc.
Lollicup® USA Inc is the largest distributor in United States of Torani syrup, sauces, frusia, and caffioco. Headquartered in City of Industry, Lollicup® is also known for its retail bubble tea drink stores under the Lollicup® Coffee and Tea and Lollicup® Tea Zone brands. Press release produced by Cybertegic - an Internet marketing services agency that specializes in search engine optimized press release marketing (SEO marketing).
###