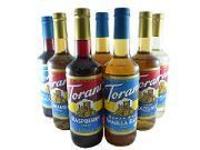 City of Industry, CA (Vocus) October 1, 2010
LollicupStore.com, an online Torani syrup and beverage supplies retailer, starts this fall season right with exciting deals on new flavors of Torani syrups, sauces, and more for the month of October. Selected discounts are available, as well as coupon codes for great deals on purchases as well. Prices start as low as $47.00 per case for irresistible Torani syrup flavors like blackberry syrup, pumpkin pie syrup, and pumpkin pie sauce.
Fall is here, and LollicupStore.com has added new flavors to fit the season, including pumpkin pie, pumpkin spice, and chai tea Torani syrups. Along with these new flavors, LollicupStore.com is offering a discount on all online purchases. Customers can use the promo code "SAVE3" and save three percent off any purchase of Torani syrups or other items less than $100 total. For orders between $100 and $200, customers can enter the promo code "SAVE6" and save six percent on the purchase. For purchases over $200, customers can enter the promo code "SAVE9" and save nine percent off the total purchase. LollicupStore.com is also offering a 15 percent discount on all LED signs purchased from the online store.
LollicupStore.com is also offering discounts on certain cases of Torani syrups. The blackberry Torani syrup has an MRSP of $51.00, but LollicupStore.com has discounted this delicious syrup to $47.00. The pumpkin pie Torani syrup MSRPs for $51.00 as well, but just like with the blackberry syrup, this tasty syrup has been discounted to $47.00. Finally the pumpkin pie sauce, which has an MSRP of $69.00, is now on sale for only $66.00. These discounts apply to each case of Torani syrups and sauces, so customers cannot mix and match flavors in the case.
LollicupStore.com also features their boba starter kit and their ice coffee kit. With these kits customers who love boba and/or ice coffee can now make their own using these starter kits. Try adding the new Torani syrup fall flavors for fun and exciting new combination flavors.
Finally, LollicupStore.com is offering a promotion on Monin sauces. Receive a Monin sauce pump free with any purchase of a Monin sauce case (four bottles per case). There is no limit on this great deal, but is only valid for Monin sauces (Monin Caramel Sauce 1.8 Liter, Monin Dark Chocolate Sauce 1.8 Liter, or Monin White Chocolate Sauce 1.8 Liter). These deals are only valid for October, so be sure to take advantage of them while they last.
Lollicupstore.com is constantly looking to meet its customers' beverage and restaurant needs, so log on today to take advantage of Lollicupstore.com's low prices and special offers. Aside from existing deals and promos, customers who make bulk purchases of Torani syrup and other products can get additional volume discounts. To receive exclusive online news for Torani syrup and other products, simply log on to LollicupStore.com and join the mailing list.
About Lollicup® USA Inc.
Lollicup® USA Inc is the largest distributor in United States of Torani syrup, sauces, frusia, and caffioco. Headquartered in the City of Industry, CA, Lollicup® is also known for its bubble tea drink stores under the Lollicup® Coffee and Tea and Lollicup® Tea Zone brands. Press release produced by Cybertegic - an Internet marketing services agency that specializes in search engine optimized press release marketing (SEO marketing).
# # #