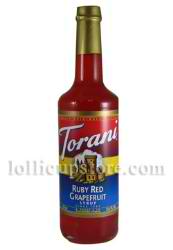 Coffee and specialty drink entrepreneurs can take advantage of huge savings for two beverage products from March 1-14, and Monin sauce sale package from March 15-31.
City of Industry, CA (Vocus/PRWEB) March 01, 2011
With spring just around the corner, the demand for both hot and cold drinks is increasing as the warm summer season draws nearer and nearer. Whether your customers crave hot or cold drinks, LollicupStore.com offers beverage solutions for both with its March 'Beverage Basics for Any Budget' promotion.
From March 1 – 14, 2011, LollicupStore.com is offering amazing savings on Torani Crème Caramel Syrup 750ML and Torani Ruby Red Grapefruit Syrup 750ML. Originally $4.85 MSRP, now on sale for $3.99. Whether added to iced coffee or hot chocolate, Torani Crème Caramel Syrup gives any specialty drink a richer caramel flavor. To appease all palates of fruit shake cravings, be sure to include a grapefruit shake to your menu.
From March 15 – 31, specialty drinks entrepreneurs who purchase a case of Monin Caramel Sauce, Monin Dark Chocolate Sauce, or Monin White Chocolate Sauce will receive one free syrup pump and one drink recipe flyer. The free drink recipe flyer can offer great ideas on how to diversify a specialty drinks menu, while the free pump will ease and quicken meeting the demands of your customers' craving for delicious coffee flavored with shots of caramel, dark chocolate, or white chocolate.
Other great featured items by LollicupStore.com include new cups, straws, and case discounts by industry leaders TeaZone, Torani, and Monin. This month, LollicupStore.com offers excellent savings on their brand new and ultra durable Large Straws (45pcs/bag) for only $3/bag. Visit LollicupStore.com's website to browse its wonderfully expansive selection of store supplies and beverage products by well-known, industry brand names.
For more information and the latest LollicupStore.com news, updates, events, and promotions, please visit LollicupStore.com, or become a fan on Facebook by searching for "Lollicup Coffee & Tea."
About Lollicup® USA Inc.
Lollicup® USA Inc is the largest distributor in United States of Torani syrup, sauces, frusia, and caffioco. Headquartered in the City of Industry, Lollicup® is also known for its retailing bubble tea drink stores under the Lollicup® Coffee and Tea and Lollicup® Tea Zone brands. Press release produced by Cybertegic.com - an Internet marketing services agency that specializes in search engine optimized press release marketing (SEO marketing).
# # #