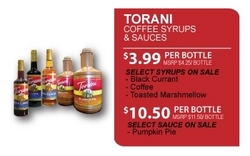 City of Industry, CA (PRWEB) August 27, 2009
This summer, LollicupStore.com will keep you refreshed with discounts on Torani syrups, frozen blends and purees. Make sure to visit LollicupStore.com because these promotional prices are available only for purchases of Torani syrups made online. For the entire month of August, get a load of Torani's flavorful treats at bargain priced deals only on LollicupStore.com. The online drinks specialists are also making a limited offer for a select few flavors of Torani Syrups. Purchase the black currant, coffee and toasted marshmallow flavor from LollicupStore.com for only $3.99. Those who want to stock up on Torani's frozen blends and purees will also receive a $5 discount for every purchase of the same flavor, by the case.
LollicupStore.com also has discounts for every purchase of one bottle of classic Torani Syrup. At only $4.25 when purchased online, enjoy the delightful flavor that Torani syrups are known for. Discounts are applicable only to purchase made through LollicupStore.com so visit the website right away for a pocket-friendly, flavorful experience with Torani. These refreshing summer deals are valid until midnight of August 31, 2009 or while supplies of Torani syrups are still available.
In addition, enjoy instant cappuccino from Caffe D'Vita, a new addition to the Lollicupstore.com inventory of famous brands. Now in its 35th year, Caffe D'Vita produces some of the finest instant cappuccinos, lattes, smoothies and blended powdered drinks on the market today. Delicious and easy to prepare, Caffe D'Vita's cappuccino powder is low-fat, low-sodium, cholesterol free, and 99.7% caffeine-free.
LollicupStore.com is the latest go-to for Torani syrups and blends. Sign up and join the mailing list to receive exclusive coupons. For volume purchases, LollicupStore.com also offers money-saving deals to make your online shopping experience worthwhile. Experience great flavors and savings courtesy of Torani syrup, available on LollicupStore.com.
About Lollicup USA Inc.
Lollicup® USA Inc is the largest distributor in United States of Torani syrup, sauces, frusia, and caffioco. Headquartered in the City of Industry, Lollicup® is also known for its retailing bubble tea drink stores under the Lollicup® Coffee and Tea and Lollicup® Tea Zone brands. Press release produced by Cybertegic.com - an Internet marketing services agency that specializes in search engine optimized press release marketing (SEO marketing).
###