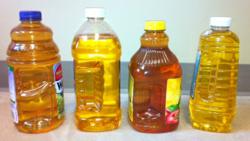 Families have told us they believe their children thought the yellow torch fuel was apple juice.
Tulsa, OK (PRWEB) August 30, 2012
"With families celebrating the last weekend of summer, we are concerned that there will be more poisonings and deaths due to children drinking torch fuel used in tiki-style torches," said Patrick E. Carr, a personal injury attorney.
"Torch fuel poses a tremendous danger to young children, and many parents do not realize how attractive the bottle of torch fuel is to their young child," Carr said. "Children often find the torch fuel bottle irresistible, drinking from it as if the clear bottle contained apple juice. Aspirating even a small amount of this kerosene-like liquid can serious or fatal injuries."
According to the American Association of Poison Control Centers' 2010 Annual Report, 1,350 children under the age of five were exposed to dangerous lamp oils in 2010. This category included fuel used in tiki-style torches commonly used outdoors for insect control and decoraton.
"Children are drawn to the see-through plastic bottles that hold torch fuel because they closes resemble familiar juice bottles," Carr said. "The size, color and shape of torch fuel bottles makes them nearly indistinguishable from juice bottles, especially for young children who cannot understand how harmful torch fuel is."
Carr & Carr is a personal injury law firm that helps people with problems involving defective and recalled products, car wrecks, wrongful deaths and insurance claim denials. The firm has offices in Oklahoma City and Tulsa, and Springdale in Northwest Arkansas. Carr & Carr will investigate torch fuel incidents anywhere in the United States. The firm is currently representing families of children harmed in Delaware, Iowa, Florida and Oklahoma.
Carr & Carr Attorneys
4416 South Harvard Avenue, Tulsa, OK 74135
1350 S. W. 89th, Oklahoma City, OK 73159
2002 South 48th Street, Suite D, Springdale, AR, 72762
800-777-4878
carrcarr.com