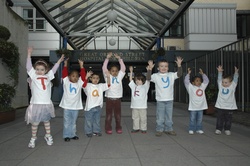 We're a rock band and were doing this for the kids, also because our manager has done so very much for us, we are doing this for our Mo.
LONDON (PRWEB) December 14, 2007
Instead of the latest X Factor winner or the latest teen band, being at No1, the Christmas charts could be topped by unsigned rock band, Torn Asunder who are a rock band more used to playing to crowds of sweaty rock fans rather than teeny boppers on the Top of the Pops Christmas special.
A year or two ago this would have seemed like an impossible feat, but the music business is changing and MySpace, YouTube, and the download charts are having more and more of an impact on popular music with rock bands and bands such as Lily Allen and the Arctic Monkeys becoming an instant success through these media. Thirty years ago who would have backed the Sex Pistols to be No1 during the Queen's jubilee celebrations?
Torn Asunder's xmas single, also has a serious note. Every penny raised from the Christmas single will be donated to the Great Ormond Street Children's Hospital. http://www.gosh.org/news/2007/bandsreleaseChristmas.html
Great Ormond Street Hospital welcomes around 150,000 patients every year, treating patients with the most complex, life threatening or life debilitating conditions. They need to raise GBP 50 million each year. Torn Asunder aims to raise at least GBP 50,000 with their xmas single.
Gary Lineker OBE:
"This is a great song, by a great rock band and it's going to a great cause... It's not often that an unsigned band will try and take on an entire industry and do it all in the name of charity. Even if people are not into rock music, it's still worth downloading from 16th Dec, because in the end you've given just 99p to help a needy child this Christmas... If 50,000 people download it... that's a lot of money raised... 100,000 is even better, the charity mission has my support, good luck Torn Asunder."
Malcolm Dome, TotalRock Radio:
"Best of luck to Torn Asunder in their very worthy quest. Here's a rock band not looking merely to push towards egomaniacal rock star status, but genuinely want to help people through their music. Let's hope they pull this off. They deserve everyone's support. And there are those who claim rock bands only care about sex, drugs and rock 'n' roll."
Kerrang Playlist: 10 Songs You Should Hear Now...24th Nov 2007:
http://www2.kerrang.com/2007/11/the_playlist_21112007.html
"Essex lot Torn Asunder brag that they play 'honest rock and roll'. They missed out that 'Love to look at you' boasts a huge melodic streak you could land a jumbo jet on."
Matt Forrest, Head of Community Fundraising at Great Ormond Street Hospital Children's Charity:
"How encouraging it is to see that Torn Asunder are releasing this single, as they know how important it is that we raise the necessary GBP 50 million each year to help rebuild and refurbish the hospital, buy vital equipment and fund pioneering research."
Torn Asunder's Manager, Mo Clark, a former GOSH patient:
"Christmas is not a time to be selfish, it is a time for giving and there are hundreds of really needy, unwell children out there, I know I was one of them many years ago, this is my way of saying thank you to the hospital."
Torn Asunder:
"We're a rock band and were doing this for the kids, also because our manager has done so very much for us, we are doing this for our Mo."
"Love to Look at You" is from the forthcoming album "15 Minutes To Tell The World". http://www.paulsmithmusic.com, 99p to download and every single downloaded will go towards making chart history as well as raising much needed funds for GOSH.
The single will be available for download from Sun Dec 16th to the 22nd (the official Chart Week), it costs just 99p to download from, Indiestore, iTunes and Napster and eMusic.
http://www.emusic.com/album/Torn-Asunder-Love-To-Look-At-You-Great -Ormond-Street-Charity-S-MP3-Download/11109850.html (Due to its length, this URL may need to be copied/pasted into your Internet browser's address field. Remove the extra space if one exists.)