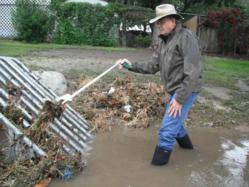 Tornado Cleanup and Flash Flood Repair is safer with The Grappler
Sparks, Nevada (PRWEB) June 27, 2013
The Grappler, the only American-made picker-upper tool, makes it easier and safer for tornado cleanup, flash flood situations, hurricanes and other natural disasters and situations. Whether it is river clean up or a summer cleaning project, this tool enables individuals to pick up the mess while reducing the risk of injury. It enables workers to pick up debris and trash from a safe distance so as to avoid cuts, snake or spider bites, or even dangerous chemicals that may exist in clean-up locations.
"The Grappler is a sturdy tool," says Kelly Smith. "It can pick up items as heavy as a completely full 64-ounce, 2 Liter bottle and yet it still provides enough control to pick up something as fine as a toothpick. Right now, while everyone is dealing with the clean-up from hurricanes, tornadoes and the clean up after flash floods, this is an essential tool." The risk of snake bites is significant when doing river clean up or when cleaning in areas that are dense with debris. The Grappler reduces this as well as the risk of contamination from dangerous chemicals or injuries like cuts and scrapes that can come from tornado cleanup programs.
Companies who currently utilize The Grappler for clean-up projects handle jobs like highway clean-up, debris and storm clean-up, sanitation work, and more. A number of volunteer clean-up organizations also utilize The Grappler to provide safe and easy cleaning assistance. Those who want to learn more about how the Grappler can reduce the risks of wounds and other injuries can do so on their tornado cleanup website.
About the Company: Grapplers Inc. was started by Jay and Bonnie Thiessans in 1992. They pride themselves on selling the only American-made Grappler tornado cleanup tool. Based in Sparks, Nevada, the company has won numerous awards and has been recognized nationwide for their achievements in the commercial-grade clean-up tool industry.