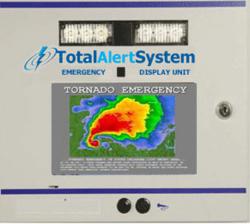 Building occupants in common areas need protection when an impending weather scenario is rapidly approaching. The Emergency Display Unit insures that actionable intelligence is made available to everyone instantly without any confusion.
Washington D.C. (PRWEB) May 26, 2011
Building Alert Inc. a world class provider of Secure Mass Notification Systems (MNS) today announced that the company now offers a wall mounted KIOSK-based Emergency Display Unit (EDU™) that 'securely' integrates Health Care organizations Active Directory, User Directories and Non-Domain groups/users for emergency alerting in common areas.
The BuildingAlert EDU™ sets a new bar for in-building emergency notification. Wall-mounted alerting devices utilize two-way voice and video communication, strobe lights and sounds to engage the attention of building occupants located in common areas, and publish alerts for personnel safety and security with details of the emergency. The BuildingAlert EDU™ provides notice for immediate attention and the devices are mounted in crucial locations throughout building facilities. Ethernet and numerous reliable wireless communication connections insure that the message is delivered.
"The Health Care sector has responded very favorably to the EDU. All EDU's are listed and available from the standard Active Directory and regarded as an end-user or end-point and as such, the activation is instant. BuildingAlert is now installing the EDU at health care locations as a common area alerting end-point. Actionable-intelligence to mitigate disaster is required in emergency scenarios. It is all about saving lives and the EDU is a great step in that direction and the health care industry has shown substantial interest in this life saving solution." said Howard Ryan, Building Alerts CEO and Founder.
The BuildingAlert EDU™ is connected to U.S. Early Warning Weather/Emergency Alerting Systems and utilizes Geographic information system technology combined with audio-visual information to intelligently notify building occupants of impending weather conditions, earthquakes and other emergencies within seconds.
The BuildingAlert EDU™ is compliant with The National Fire Protection Association and The Department of Defense United Facilities Criteria recommendations for common area alerting. The BuildingAlert EDU™ solution is the most effective and most affordable common area alerting solution on the market.
Available Operating Systems: Windows XP™. Windows Vista™, Windows 7™, Macintosh™, Linux™, UNIX ™. This technology is compliant with ADA requirements and the 2010 National Fire Alarm & Signaling Code (NFPA72-2010). All systems subject to DoD Security Technical Information Guide Testing (STIGGED) and OS Baseline process.
About Building Alert, Inc.™
Worldwide U.S. Military organizations such as The United States National Guard, The United States Air Force Academy, The United States Military Academy at West Point, Multi-National Forces in IRAQ, The U.S. Air Force, and The U.S. Army now utilize the Building Alert mass notification platform daily for their organizations emergency communication requirements. Building Alert can contact thousands of building occupants in seconds with critical emergency information.
###