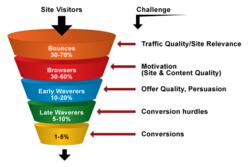 If you have a bunch of traffic coming to your site that is one thing. But converting that traffic into dollar signs is another. Conversion Rate Optimization targets exactly that.
Toronto, Ontario (PRWEB) November 15, 2012
Powerhouse Internet Marketing is pleased to announce its newest addition to its client dashboard tool set - Conversion Rate Optimization. A lot of people create a website. It looks good and it has visitors but yet something seems to be lacking. Generally most of the time the problem lies with conversion rate optimization. According to Powerhouse Internet Marketing "If you have taken the time to learn how to use social media and search engine optimization to bring traffic to your website, you've completed just one part of the puzzle." Creating a successful website takes a lot more than just putting a website online. It is a large puzzle put together in the proper way in order to make it work but at its core is Conversion Rate Optimization. Without conversions, no matter how hard you try or how much money you invest in SEO your website will always be lacking revenue.
With the launch of this new platform come tests that can be run on a clients website to help the client and SEO specialist find out which CRO strategy will work for them directly within the Powerhouse Internet Marketing client dashboard. Not all websites are alike, they may be offering the same items or information but a web site will pull a visitor to its site for various reasons. Powerhouse Internet Marketing is a Toronto SEO company that has all of the tools along with the people to do this job done quickly and effectively. The newest Conversion Rate Optimization tool is just one of the many in their arsenal against the search engines.
About Powerhouse Internet Marketing: Powerhouse is a Toronto based Search Engine Optimization Company dedicated to helping Toronto SEO clients succeed online. Powerhouse Internet Marketing uses many methods to achieve a higher position on the search engine rankings such as paid-search campaigns or Pay Per Click, SEO or Search Engine Optimization, Conversion Rate Optimization or CRO, strategic SEO specific Website Design practices and much more. A company spokesperson emphasizes the importance of conversion rate optimization as part of any successful internet marketing campaign and once said: "If you have a bunch of traffic coming to your site that is one thing. But converting that traffic into dollar signs is another. Conversion Rate Optimization targets exactly that."