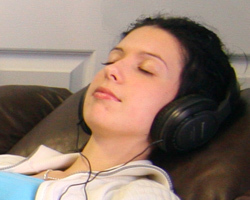 Hypnotherapy is the tool we need in these times.
Toronto, Ontario (PRWEB) April 1, 2009
Stress levels are skyrocketing as Canadians struggle to deal with financial loss and job insecurity. Many anxiety-ridden people are choosing hypnotherapy to maintain their health and well-being, as well as a sound and focused mind in both their professional and personal lives.
"Chronic stress is an epidemic and it is wreaking havoc on people's lives--their careers, their personal lives, even their physical health," says Luke Chao, founder and director of The Morpheus Clinic for Hypnosis.
Increasing numbers of Canadians are using hypnotherapy to improve composure and concentration during high-stress situations. Through refined methods of hypnosis, these individuals are discovering how to transform anxiety into positive motivation as well as increase their overall levels of relaxation.
Chronic stress can cause myriad health problems such as unwanted weight gain, increased susceptibility to colds and flu, insomnia, migraines, ulcers and a greater risk of heart disease and cancer. It often increases dependence on substances such as nicotine or alcohol.
"Some of our clients report that they relax better during a hypnotherapy session than they do in their own beds at home," says Chao.
Thirty-seven-year-old Ross McKenzie was impressed with how quickly hypnotherapy worked for him. "I suffered from a stress-induced, obsessive-compulsive habit for eight years," he says. "After just one session, it was gone."
Unlike many hypnosis centres in Canada that focus on the spiritual or mystical realm, The Morpheus Clinic for Hypnosis takes a naturalistic approach to hypnotherapy by concentrating on health, well-being and self-improvement. In addition to stress management, The Morpheus Clinic sees clients for weight loss, smoking cessation, motivation, confidence, overcoming phobias, emotional issues and reoccurring physical ailments.
"We all have the ability to change our thoughts, emotions and behaviour--including our ability to manage stress," says Chao. "Hypnotherapy is the tool we need in these times."
###