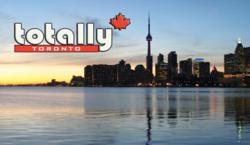 Toronto's 2012 Calendar is Totally Packed with Leisure Entertainment
(PRWEB) April 19, 2012
With Toronto's ever developing world class status it is part of Tourism Toronto's vision to position itself in the best possible way to welcome a plethora of global visitors.
Toronto's 2012 calendar is Totally packed with leisure activities once again making Toronto Totally yours.
According to David Whitaker, President and CEO of Tourism Toronto, 'In 2011 we continued to focus on high-value visitors from the U.S. and looked to key overseas markets such as China, India, Brazil and Western Europe for growth.....Visitors from overseas tend to stay longer and do more while they're here....They also often visit other parts of Ontario and Canada on the same trip."
Over the past decade, psychologists have begun to recognize that cultures often differ in their worldviews and, as a consequence, members of different cultural groups can have different self structures and processes. Markus and Kitayama (1994). http://www.questia.com/googleScholar.qst?docId=5008753257
Much of the value of leisure is to socialize, belong and fit in, maintaining harmony, restraining oneself, and promoting others' goals. (Fiske et al., 1998, p. 925).
This brings us to the ever-populated Toronto Leisure Activity calendar that greets Toronto Tourists and residents with activities to celebrate and engage audiences of various cultures.
Positioned to bring you Toronto to you, Totally Toronto is proud to hear: 'Picasso masterpieces to Canadian audiences is a major accolade for our country and the Province of Ontario," said President of the Art Gallery of Ontario (AGO) Board of Trustees Tony Gagliano.
From May 1st to August 26, 2012 at the Art Gallery of Ontario. Toronto is one of many world class cities to host a collection of Picasso's' works.
Totally Toronto understands that the world loves art. The people of Toronto love Art.
With close to 600 000 square feet and over 80 000 pieces of art the Art Gallery of Ontario welcomed over 850 000 visitors during the 2009/2010 season. With 45% of these visitors from outside Ontario!
Please visit the Art Gallery of Ontario (AGO) for further information.
While in Toronto this summer do take advantage of the 10th annual summerlicious event from July 6-22, 2012. This is a Toronto exclusive event that works to make fine dining financially accessible to all. Participating restaurants offer a prix fixe for the duration with a price range of $25-$40 depending on lunch or dinner service.
New for 2012 is the Vinho Verde beverage from Portugal. Smooth and with just the right amount flavour Vinho Verde tempts the palate making you call out for more.
Totally Toronto will investigate this wine extravaganza and report to you in a timely manner.
In the meantime, do check the Totally Toronto website for a list of leisure activities that will keep you engaged while in Toronto!
Totally Toronto is positioned to make Toronto Totally yours.
Totally Canada Inc., operating under the name 'Totally Toronto' is based in Toronto, Canada with offices in Barbados. The company was incorporated under the Business Corporations Act (Ontario) on September 23rd, 2010.
Totally Toronto aims to help local businesses shine alongside Toronto's corporate titans. With valuable business exposure on Totally Toronto, businesses will gain increased exposure online, before a visitor even steps outside their home, hotel or airplane.
Promoting all there is to know about Toronto - that's Totally Toronto.
About Totally Toronto
Founder and Managing Director
Brett Callaghan.
Totally Canada Inc. / Totally Toronto
30 Silvermoon Avenue,
Toronto, Ontario,
L7E 2&9, Canada
For more information on Totally Canada Inc. / Totally Toronto / Totally Barbados, please call (866) 978-5898 or (416) 628-8795.
Email: service at totallytoronto.net