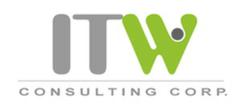 Toronto, ON (PRWEB) November 01, 2011
Developing for the mobile web is a hot topic. Increasingly, web users are utilizing mobile devices such as iPad, iPhone, Blackberry etc. to navigate the web. In the year 2010 alone a total of 81 million PCs were sold worldwide, while 62 million smartphones were bought. Given the close competition, it is critical for web designers and web developers to optimize their sites to be compatible with mobile browsers.
ITW Consulting, the leading New York and Toronto web design team, recognizes the value of having websites which are compatible with all browsers. "Before crafting website, our dexterous web design team examines the most common screen resolutions of our customers' intended audiences", says Alexander Shekaroff, co-founder and partner at ITW Consulting.
The company utilize liquid layouts to provide more flexibility on screen resolutions. Liquid layouts are very flexible as they expand and adapt to any device's screen resolution. There is a minimum width set (1000 pixels) which automatically resizes all proportions of the website on mobile, laptop and desktop devices in order to correctly display images. The ultimate goal is to provide a full screen resolution with optimal web browsing.
All websites are modern, showcasing the professionalism, sophistication and experience of a product or service. Site visitors will be able to intuitively find their way around. Likewise, they will be able to utilize the navigational links to find the specific area that they are interested in. ITW Consulting`s main goal is to create websites which are quick and to the point, taking visitors straight to the point of interest
"Do not hesitate to contact ITW Consulting's Toronto and New York web design offices", add Shekaroff. "We will gladly examine the current website and will recommend changes one should make for optimal browsing. Our SEO specialists will also work with each client to optimize content that is easily recognized by search engines."
About Alexander Shekaroff:
Alexander Shekaroff is the co-founder and partner at ITW Consulting, a leader in cutting edge Toronto and New York website design. Outside of work, Alexander participates in various community events to raise awareness for Cancer and Autism Spectrum Disorder. In September of 2011 he participated in a 10k Terry Fox Run and in October of 2011 he took part in the ScotiaBank half-marathon where he raised money for an organization called Autism Speaks Canada. Autism Speaks Canada aims to find a cure for Autism Spectrum Disorder, which affects 1 in 150 lives worldwide.
###