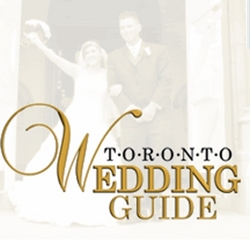 (PRWEB) March 24, 2009
Welcome a new online wedding directory to the internet, TorontoWeddingGuide.com! A new online source to help you find the best in all wedding services in the city of Toronto.
The wedding industry consists of so many services, such as Wedding Photography, wedding videography, wedding DJs, wedding limos, banquet halls, wedding invitations and much more. Combine so many wedding services in a big metropolis like Toronto, and you get so many companies within each wedding service, having to filter through all that the city has to offer. Well with Toronto Wedding Guide, this online directory that has recently been launched at Toronto Wedding Guide, provides a portal of wedding service information for users to find readiful information at the tip of their fingers. Along with registering with Toronto Wedding Guide, new users to the website will be given a DVD including all the listing FREE, as part of the new launch of the wedding service portal.
This gift will be given away as part of a new campaign to let people know what the directory is all about and how it can be beneficial to you as someone looking for Toronto Wedding services throughout the GTA and the southern Ontario region.
As for businesses looking to promote or have their business listing on this directory, the advantages are great and companies should reap the rewards within a quick turnaround. First off, as a way to introduce the newly uploaded online directory, Toronto Wedding Guide will offer all business looking to have a listing on the portal with a 90 day listing that is absolutely free with no obligations. All that is required is to sign up and post your listing by March 31/09, to qualify for the 90 days promo.
The second advantage to promoting your wedding service business online with Toronto Wedding Guide is that the online directory has a team in place that will focus on solely positioning the online directory within the top of the Google, Yahoo and MSN search engines, by full optimizing the site, thus giving businesses who will be advertising on the online portal even more presence through the natural search results of the aforementioned search engines.
So go ahead and start listing your site on TorontoWeddingGuide.com Toronto Weddings today, you will see the difference a website that is fully optimized can do for your online presence, and by becoming a registered user with the wedding directory before March 31, you will be receiving a FREE DVD that lists all the new services and categories that we have online that your disposal.
Toronto Wedding Guide, the premier wedding service online directory listing wedding service companies in the Greater Toronto Area in areas such as Wedding DJs, Wedding Limos, Wedding Photography, Wedding Video and much more to assist you in searching for the most reputable company within a wedding service industry.
News:
1. From Babylon Productions Wedding Center
(Newlyweds to Win Back their Day Dream Wedding)
It pays to get married in 2009 and in Toronto. Babylon Productions Wedding Center will draw the name of two lucky winners with existing wedding packages and win a complete refund of all expenses. This all-inclusive "Wedding Package Refund" includes a combination of Wedding DJs, Wedding Limos, Wedding Photography , and videography, based upon the couple's initial purchased combination package. All that is required from the couples to be eligible for this cost-saving draw is to book one service or more and to be married in 2009.
2. Toronto Limo Rentals (New Limo Company in Toronto)
With Toronto Limo Rentals, selecting limos for a wedding day can be a breeze. If you are a bride and groom ready to plan for your wedding, we will help you make the choice of a limo for your wedding celebration less stress less. We understand that planning for a wedding requires a lot, with Toronto Limo Rentals, we make that a success. ( Wedding Limousine )
3. Toronto Dj Services ( New Company with DJS Enterprises )
Toronto DJ Services is a website devoted to offering you a great experience for a DJ for your corporate event, social gala, bar mitzvah, baptism, birthday party, wedding and much more.
For more details, visit http://www.TorontoWeddingGuide.com
Toronto Wedding Guide
Domenic Polsinelli
136 Winges Rd #6
Woodbridge, Ontario
Canada, L4L 6C3
905-264-8351
###