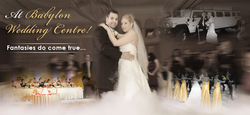 Before you say 'I DO" come see what we do ( Babylon Wedding Photographers, Video Productions, Dj, Invitations, Limousine Services in Toronto Greater Area )
Toronto, ON (PRWEB) February 2, 2010
Time to ring in the new year with Babylon Wedding Services with a new website, chalked full with new wedding service packages, prices, business affiliates and much more in the upcoming wedding season for 2010. You get the same reliable service as in years past, the same great prices, special offers, business affiliates that will help you save and much more, all from Babylon Wedding Services.
With some companies continuing to keep things the same from year to year, there are other companies that continue to raise the bar within their respective industry reaching new standards in terms of business practices that will benefit themselves and the customers that deal with them. One company that is located in Toronto, Ontario is Babylon Productions Wedding Centre. Offering everyone a special wish of merry Christmas and happy New Year from the staff at Babylon Productions, they are ready to bring in the 2010 year with great services in wedding photography wedding photography, wedding videography, wedding limousines, wedding DJ, wedding invitations and much more; Babylon Weddings will continue to evolve in so many wedding services in 2010. ( Photographers, Video Productions, Djs, Limousines, Invitations )
The first change is their brand new online website. They have designed a new friendly website that encompass a new look and online and offline strategy that they will brand to present to their clients in 2010. The newly designed website has all the benefits of the previous website; however, it has been re-designed to offer updated wedding photography packages, along with all the other important wedding services, staples from Babylon Wedding Centre, services like wedding videography, wedding limousine services, wedding DJs and wedding invitations. All these services along with other wedding services that Babylon Weddings will get you ready for will aid in the preparation of your wedding day in the 2010 wedding season have all been updated for you. They have also added something new in 2010. By simply taking the time to read this press release, you will receive 5% off any wedding service offered by Babylon Weddings ( Wedding Photography Toronto ). Simply contact them and ask for your 5% discount from the online press release and let them do the rest for you.
Another advancement in 2010 that they have focused on in joining forces with other entities in 2010 and this year they have affiliated themselves with great conglomerates in the wedding industry of Canada. One company is Moore's clothing outlets throughout Ontario. Moore's has over 70 stores in Ontario, offering the best in quality suits at affordable prices. Toronto Wedding Photographers has joined forces with Moore's to help both them and Moore's save. One area that Moore's excels at within the wedding service area is the rental of groom's and usher's tuxedos. Visit a Moore's store today, and ask about the Babylon Wedding saving and see how you will save on a great quality rental tuxedo for your wedding day in 2010. Toronto Tuxedo Rentals
Babylon knows how to succeed in the wedding industry in Toronto and has also created partnerships with some of the finer banquet halls in Toronto and the GTA. Such banquet halls include, Paradise Banquet Hall and Fontana Gardens to name a few. You will reap the benefits of these partnerships because now, there are recognizable companies coming together to offer you one-stop shopping for your wedding day. With the planning of a wedding day being somewhat stressful and tedious, it is good to know that a company like Babylon, which offers many of the core wedding services, can also team up with some of the leading industry companies to make sure that you can make a decision on which wedding services to go with a whole lot easier. Toronto Banquet Halls Venues
With so many changes coming in 2010 with Babylon Weddings, the one thing that will stay the same is the great quality of service you will be getting with every wedding service you choose to go with when dealing with Babylon Weddings. So again, if you are looking for a wedding photographer, a videographer for your wedding, wedding limousines and wedding DJs, let Babylon make sure that you will get great services all at an affordable price and be sure to ask for your 5% discount just by reading this. Affordable prices because they offer bundled packages on many of these services together. Call them at 416-663-4784 to see how they can help make your wedding a special occasion. At Babylon Weddings "Before you say I do, come see what we do!" for all your weddings photography videography disc jockey limousine invitations service.
###