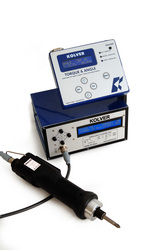 Westford, MA (Vocus) May 13, 2010
In today's manufacturing environment, fastening, applications may require different control strategies and solutions to meet customer's demanding specifications. The most common cases are precise torque control with angle monitoring, and exact angle control with torque monitoring.
KolverUSA is pleased to announce the introduction of our Torque and Angle Series (TAA), featuring both precise torque and angle control.
This system includes:

Torque and Angle Control Unit with capability for up to 8 separate joint strategies
TA Controller
Pluto Driver (depending on the torque range required)
With the TAA System set for Angle Mode, operators can control rotation angle of the fastener, as the motor stops automatically when the pre-set angle has been achieved. Under Torque Mode, precise tightening torque may be achieved, with a corresponding min/max angle setting, to insure exact torque and angle targets have been met. The KolverUSA TAA Control Unit displays both Torque and Angle on our large LED screen, and records all data to insure complete traceability.
Curt Logee, VP Sales for KolverUSA, states, "With the addition of our TAA Torque and Angle System, we now offer a more complete range of fastening solutions to meet the ever expanding requirements of our customers. By including torque and angle capability, at a significantly lower price point that other systems in the market, we offer our customers a real choice for the most technical fastening applications."
The main features of the TAA System include a display showing both torque values in in/lbs or Nm, and in angle degrees. Another feature included is a selection of either factory pre set (hard or soft joints) or custom calibration programs specific to the customers fastening application as well as a password protected user-friendly menu. A helpful component of this system is that either a green or red LED light will display to indicate a successful torque/angle tightening or to indicate an error message.
For complete information, or a demonstration of the new TAA System, please contact KolverUSA or your local sales representative.
About KolverUSA:
KolverUSA is a Joint Venture between Blackstone Global, Inc of Westford, MA and Kolver S.r.l. of Thiene, Italy. Kolver USA has combined the Kolver product line with other products from around the world and added innovative solutions to provide the most complete, cost-effective, and well-regarded products in the industry. For more information, visit http://www.kolverusa.com, or contact the company at 1 Park Drive, Unit 9, Westford, MA 01886 USA; Tel. (978) 692-5166; visit the web site for other offices, dealers, and representatives in the Americas.
###