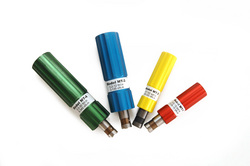 Westford, MA (Vocus) September 14, 2010
KolverUSA's Micro-Tool manual torque drivers are designed for customers that require a precision, preset, manual torque screwdriver. A cam mechanism with suspended adjustable thrust and axial bearings provides adjustable, accurate and consistent torque operations. All of our torque screwdrivers use a precision sealed ball bearing for clean, smooth operation. The handle on the standard model torque driver is color anodized for durability. Drive type is a stainless steel ¼ inch female hexagon with ball detent retention.
Micro-Tool torque screwdrivers are intended for manufacturing engineering and quality assurance torque checking as well as lower volume manufacturing and reworks that require precision torque capabilities. They can be set to a customer specified torque value prior to shipping.Curt Logee, V.P. Sales at KolverUSA says that "with the addition of the Micro Tool Adjustable Torque line of manual screwdrivers, KolverUSA has expanded its offering of precision torque products to our customers. These screwdrivers offer precise torque control (+/- 3% repeatability) a wide range of torque (0.5 in/oz - 36.0 in/lbs) and are available in standard, or clean room compatible designs."
We offer the most robust design of this type of torque screwdriver on the market today. We strive to accommodate any special customer requirements and welcome your input. KolverUSA also offers stainless steel Micro-Tool torque drivers. These are designed for class 10 clean rooms. Drive type is a stainless steel ¼ inch female hexagon with ball detent retention. Clear soft grip handle covers for a snug fit on our torque screwdrivers and ¼ inch square male adaptors are also available. All of the Micro-Tool torque drivers are designed and tested to meet or exceed ISO 6789 specification. For more information please contact your local KolverUSA representative.
###