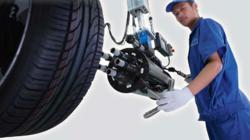 This was a very exciting project for us and one that looks highly promising for the future.
Cardiff, Wales (PRWEB) July 24, 2012
Load cell manufacturer Flintec has launched a new torque transducer for a leading global producer of industrial pneumatic tools.
The new transducer is the electronic brain at the heart of heavy duty air nut runner tools used to tighten nuts and bolts to safety-critical torques.
The tools are used extensively in the automotive industry to fit wheels, seats, seat belts and other parts and assemblies where the correct torque has vital safety implications.
Flintec's world class force measurement engineers are principally load cell specialists with high levels of expertise in custom solutions.
They are regularly called on early in the design process to devise innovative load cell solutions that will cut project costs and reduce time to market.
This latest project is the first time that its test and measurement team has been tasked with the development and manufacture of a torque transducer.
Flintec's engineers had to work within a tight design brief, creating a range of different capacity transducers to fit a predefined enclosure space that could not be changed.
The initial order was for several thousand torque transducers with the potential to grow to tens of thousands of units over the next few years.
It has been such a successful project that it could signal a whole new range of torque transducer products from the load cell supplier.
Flintec Managing Director David Weeks said: "This was a very exciting project for us and one that looks highly promising for the future.
"Clients regularly ask us to play a key role in their product development, using force sensing technology to explore new avenues of innovation and take their products to the next level.
"Torque transducers are another area in which our decades of experience in force measurement can benefit manufacturers across a wide range of sectors all over the world."
One of the reasons that Flintec has been able to diversify so successfully over recent years and rapidly move up the supply chain is that it can demonstrate a high commitment to quality with ISO9001 and ISO13485 approvals for its strain gauge load cell solutions.
Significantly, Flintec also has VCAP approval for its NTEP-approved load cells – confirming consistency of quality: all its solutions meet the same precision accuracy standards.
This is important because it helps Flintec's clients to meet the VCAP standard as well.
Flintec can closely control quality at its facilities because it:

meticulously calibrates 100 per cent of its load cells
manufactures all its strain gauges in-house
machines and heat treats all its load cell elements.
Flintec is one of the world's biggest manufacturers of load cells. Its design teams are located in the USA, UK and Sri Lanka.
For more information about load cell manufacturer Flintec's force measurement solutions, please contact David Weeks, +44 (0)2920 797959.
Information for Editors:
Flintec UK Ltd
W4, Capital Point
Capital Point Business Park
Wentloog Avenue
Cardiff, CF3 2PW
Tel. +44 (0)2920 797959
Fax +44 (0)2920 797939
Flintec is one of the world's largest manufacturers of precision load cells and strain gage electronics – innovating a diverse range of force measurement solutions for customers who demand optimum accuracy, quality and customer service.
Founded in Sweden, the company has focused upon the design and manufacture of strain gages, load cells, measurement electronics and software for a diverse industry base from weighing machinery to new markets in the medical device, industrial and agricultural machinery and process automation sectors.
Flintec is part of the Swedish Indutrade Group (http://www.indutrade.se) listed on the OMX Nordic Exchange Stockholm. Indutrade comprises 160 subsidiaries with 3,800 employees and annual revenues in excess of $1 billion.
Flintec's teams have always actively sought out the most difficult load cell weighing and force measurement challenges. Flintec innovates solutions for applications that rival firms have either ignored or tackled badly.
In recent years, Flintec has expanded with:
two hi-tech major manufacturing facilities in Sri Lanka (at Katunayake and Koggola)
sales, distribution and customer support facilities in the USA, Brazil, Sweden, Germany, the UK, France, Italy, Sri Lanka, China and India
1,000 highly-trained employees committed to developing innovative measurement solutions, maximum accuracy and rapid delivery.
Major sectors served include medical device manufacturing, process weighing, weighing machinery, industrial and agricultural vehicles, test & measurement plus process automation & control.