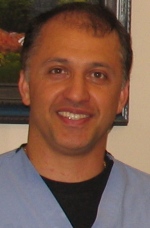 Torrance, CA (PRWEB) July 25, 2011
Torrance dentist, Dr. Robert Mondavi, DDS, understands the financial difficulties that some patients face living without dental insurance. Dr. Mondavi explores all available options to help patients afford the cost of expert dental care. Any patient that receives dental implants placed by Dr. Mondavi will now see a significant discount in the price. This brand new price reduction is designed to help everyone smile better at a more affordable price.
The use of dental implants in dentistry was established in the early 1950s, but did not become popular until the price was affordable for the average patient. The biggest difference between dental implants and standard dentures is the permanent nature of the placement. When implants are placed, they cannot be removed and are indistinguishable when compared to a natural tooth. Patients that are looking for more support when chewing foods and improvement in speech are selecting dental implants after learning of the benefits from Torrance dentist, Dr. Mondavi.
The resources that are now available in cosmetic dentistry are helping patients to smile more often and easily bring back the lost luster that happens when dental problems plague a smile. The treatments provided today by Torrance cosmetic dentist, Dr. Mondavi, are completely safe and are completed with increased comfort. The number of dental visits required has also been reduced to give a person a brand new smile in noticeably less time. Dental problems that exist from birth, childhood, teenage years or adulthood can be reversed and transformed with expert dental treatments.
About Dr. Mondavi, cosmetic dentist Torrance
Dr. Mondavi exhibits all of the qualities that are expected in a 21st century dentist. He consistently upgrades his training and investments in dental technologies to be the premium provider of dental care for Torrance residents. Dr. Mondavi is a graduate of the UOP San Francisco School of Dentistry and employs a team of dental specialists to aid in creating unforgettable smiles for patients.
For more information about this offer, and other treatments by Dr. Mondavi, visit http://www.robertmondavidds.com. You can also call 310.363.7126 to make an appointment at his office, which is located at 17311 Yukon Ave. in Torrance, CA 90504.
PR by http://www.seocompanyca.com
###